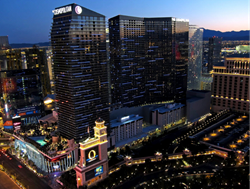 Excellent more intimate setting than the larger ACFAS or APMA seminars. Able to be more attentive to lectures. The lectures were superb as well as newest innovations. - MF, Las Vegas
Boca Raton, Florida (PRWEB) January 07, 2014
The Superbones West Conferences feature internationally acclaimed speakers, state-of-the-art lectures, a vibrant exhibit hall and hands-on workshops featuring surgery and wound care topics of interest to podiatrists. Held the last four years at the Bellagio Hotel, the Aria Hotel, The Venetian and the Encore, PRESENT e-Learning Systems continues its tradition of bringing podiatry's finest teachers together with successful podiatrists at the coolest premium destinations. With a new and exciting location, timely lectures and a plethora of exhibitors, this event should enhance each participant's knowledge, while creating an eventful getaway for them and their families.
Superbones West 2014 will be held September 11-13, 2014 at the Cosmopolitan Hotel, Las Vegas, followed by Superbones West 2015 on October 22-24, 2015 at the same property. This two year contract will provide a stable home for the Superbones West Conference in an exciting, upscale location.
For those unable to attend one of PRESENT's foot conferences, podiatrists can attain CME credits through PRESENT e-Learning Systems' online learning opportunities at http://podiatry.com. These online learning opportunities feature medical lectures presented by well-known experts in the field of podiatry. PRESENT e-Learning Systems' online health education includes the opportunity to ask questions of an international team of foot care experts, review case presentations and receive practical advice on the business side of medicine.
PRESENT e-Learning Systems is a medical education and communications company (MECC) that currently runs three public online education community websites for medical professionals and publishes educational programming and other original content to over 130,000 members. Founded in 2004, PRESENT e-Learning Systems (http://PRESENTeLearning.com) is the first company to combine online multimedia medical education with social networking to create online education communities for healthcare professionals. In combining professional education with community, PRESENT e-Learning Systems has recreated the experience online, that physicians, nurses and other healthcare professionals are all familiar with experiencing live – that of attending a clinical medical conference. PRESENT e-Learning Systems is skilled at producing streaming media medical education programming, employing still and video imagery, and animation to enhance the educational content. PRESENT e-Learning Systems is based in Boca Raton, Florida and employs a staff of 19 including meetings management, programmers, graphic artists, multimedia publishers and support staff. PRESENT e-Learning Systems runs four (4) additional nationwide conferences every year; Superbones East in Orlando, Florida, Residency Education Summits in Chicago and New York City Area and Desert Foot at the Phoenix Downtown Sheraton. You can register for any of these conferences by going to PRESENTConferences.com.
The Cosmopolitan of Las Vegas has quickly established itself as one of the trendiest spots on the Strip. The typical Vegas kitsch has been swapped out for aggressively modern design and futuristic touches (guests sign in on an iPad). Rooms are large and feature comfortable, designer furnishings, modern, open bathrooms and breathtaking views of the Las Vegas skyline. Dining is reinvented with a one-of-a-kind restaurant collection featuring world-class chefs making their Vegas debut including David Myers, Scott Conant and José Andrés along with authentic dining options by famed restaurateurs Costas Spiliadis, The One Group and brothers Bruce & Eric Bromberg. Stylish design and art engage cultural sensibilities while a vibrant nightlife scene captivates perceptions. The Pool District offers panoramic views and unrivaled service, allowing guests to choose between three distinct pool experiences. Combine it all with an eclectic mix of hand-selected boutiques, a 100,000 square-foot casino featuring first-of-their-kind casino cabanas, Marquee Nightclub & Dayclub, and the serenity of Sahra Spa & Hammam to redefine your luxury resort experience. In 2013, the hotel was rated "The Best Hotel in the World" by Gogobot.