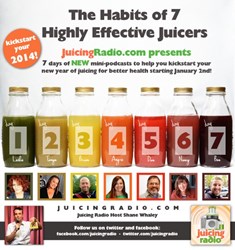 These experts have lost a combined 700lbs by juicing and share their stories, tips, juicing recipes, and successful habits to inspire those who are juicing for the first time.
New York City, NY (PRWEB) December 27, 2013
'The Habits of 7 Highly Successful Juicers' podcast launches January 2nd, 2014 to inspire, empower and encourage listeners eager to kick start the New Year in a healthy way.
Juicing advocate and host of the new JuicingRadio.com, Shane Whaley, is behind the groundbreaking New Year's podcast series which marks a global first for the health industry, podcasting and those hungry to get the edge on their 2014 resolutions.
Juicing has been trending fast as more awareness of the benefits and potential results have been brought to light. According to Google Insights interest in, and searches for "juicing" doubled from January 2012 to January 2013, and inquiries are up five times of that in January 2010 when Shane Whaley embraced weight loss and detox juicing.
Co-host of the new juice fast and detox podcast, Angie von Buelow who has experienced 86 pounds in weight loss from juicing has appeared on the popular Dr. Oz Show which promotes 'The Healing Properties of Juicing' as a method for "helping you to get the necessary nutrients from fruits and vegetables".
Despite best intentions for getting in shape and living a healthier lifestyle a report by Forbes claims just 8% of people achieve their New Year's resolutions. The main reasons for this reportedly include lack of motivation and accountability partners.
This is the inspiration behind Juicing Radio and the new podcast series which runs from January 2nd for seven days via JuicingRadio.com/habits.
The special mini-series; 'The Habits of 7 Highly Successful Juicers' is dedicated to all who are starting the New Year with a juice cleanse or detox. Self-confessed 'Juice Fanatic' and spokesman Shane Whaley who juiced for the first time in the New Year of 2010 and went on to lose 80 pounds, and compete in four half marathons says "We hope to inspire and motivate as we interview successful juicing individuals and hone in on their first ever juice detox. These experts that have lost a combined 700lbs by juicing share their stories, tips, juicing recipes, and successful habits with you."
Mr. Whaley also likes to refer to the podcast as 'mental juice', saying "a juice fast/detox is not just what you put into your body, but into your mind," and is an important element in providing proper nutrition and essential fuel for reaching health and fitness goals.
More about the podcast can be found on JuicingRadio.com website, as well as success stories from those that have effectively been able to work, travel and run, while juicing and have even launched nonprofit juicing enterprises.
Those looking for more support in their New Year's juicing can find a whole community of juicers online at https://www.facebook.com/juicingradio.