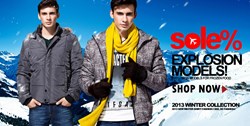 (PRWEB) January 01, 2014
Skmen.com, a leading company that provides a lot of men's clothes, women's special occasion dresses as well as cell phone accessories, has recently launched site-wide promotion of its high quality iPad mini leather cases. Now, all the company's cases are offered at discounted prices, up to 30% off.
According to a senior spokesman for the company, the iPad mini leather cases from Skmen.com are among the most popular items in the present market. They are carefully designed and delicately manufactured by the company's professionals. These items are available in varied sizes and colors.
Skmen.com wants to make its website is a one-stop place for cell phone users. From the clear product category, visitors can find what they need in a short time. It's an easy and safe buying process that brings a lot of convenience to customers from around the world. It is eager to save more time and money for all new and old clients. In addition, customers can write reviews at its website freely. Any ordered items will be delivered as soon as possible.
A lot of the company's items are often in great demand in the global market. They are all fashionable and affordable, thus being widely accepted at home and abroad, and they make a huge statement.
About Skmen.com
Skmen.com, a China-based company founded in 2009, is one of the leading suppliers of men and women's high quality clothes. Also, it offers pretty cell phone accessories. The company has more than 5000 customers from every part of the world, helping people develop self-esteem, confidence and a love of learning.
For more details, readers can visit http://www.skmen.com/product-ipad-mini-cases-010003.aspx.