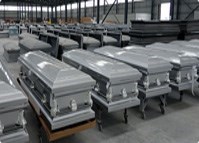 (PRWEB) December 27, 2013
Recently, MillionaireCasket.com, a renowned casket manufacturer and wholesaler, has added its latest collection of solid fir wood caskets to its product line and launched a new casket promotion. According to the CEO of the company, all customers can get a discount, up to 29% off, before January 17, 2014.
MillionaireCasket.com is a one-stop funeral online shop. Apart from the newly released products, the company is providing a huge selection of comfortable caskets for the deceased. What's more, it also offers bodybages, urns, embalming tables, stretchers, keepsakes, church furniture, church trucks and many other funeral products. It has a larger number of customers from around the world.
"We are proud to announce to the new items and provide the big discounts. All new and old clients can enjoy the special offer. We are now offering over 100 different kinds of coffins worldwide retailers, distributors, and industry professionals. All our solid caskets are reasonably priced," the CEO says.
The CEO has also indicated that all its items have gone through the verification process. The company has a professional team of industry experts who often analyzes products to ensure exquisite quality. Its caskets are available in various thickness and weight; all of them are resistant to corrosion and rust.
About MillionaireCasket.com
MillionaireCasket.com is a leading casket company based in China. It focuses on the business of casket wholesale. It offers an exquisitely crafted line of all kinds of metal caskets, solid wood caskets, veneer caskets, cremation caskets, rental caskets, orthodox caskets, infant or over-sized caskets and European style coffins.
For more detailed information, readers can visit: http://www.millionairecasket.com/.