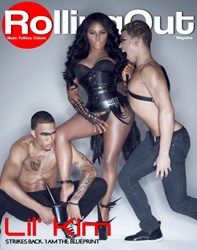 I think that would be super corny for me to try to answer a question like that …
Atlanta, GA (PRWEB) December 27, 2013
Lil' Kim is one of the most iconic female artists of the last 20 years. She could make a case for most famous female rapper of all time. She cut a path for brazen female sexuality in hip-hop that cemented her legacy long before a stint in prison slowed her career and gossip blogs began their often mean-spirited and personal attacks on her image. Her legacy is close to unquestionable — but today, she's refusing to answer any question about that legacy.
So, in addition to being an innovator and an icon — Lil' Kim is defensive.
"No disrespect, no shade, but I'm not going to answer [that] question because I think that's kinda corny," she tells New York-based music editor Todd Williams, adamantly. "I don't know how to answer that."
All things considered, Kim's quiet hostility toward the media isn't surprising. Expectedly, throughout our interview, her demeanor hardly rises above icy.
"That's not a question I would answer," she says regarding the media's ongoing fixation with her. "I'm blessed. That's all I can say. And I am who I am."
If nothing else, Kimberly Jones remains defiant and unbowed. Much of her resilience is tied to her having learned to separate business from feelings.
Visit rollingout.com to read the interview in its entirety. Be sure to check out this and other exclusive photo shoots and video footage with celebrity photographer DeWayne Rogers.
About rolling out Magazine:
Rolling out, the nation's largest free urban weekly, is a digital and print magazine that focuses on the black experience in response to entertainment, politics, fashion, culture, sports and lifestyle points of interest. Headquartered in Atlanta, rolling out is positioned as the voice for the African American experience, using its newspaper as a platform in the marketplace to express urgency for education reform, and to document entrepreneurial endeavors and other relevant issues in the Diaspora. For information on rolling out, please log on to rollingout.com.