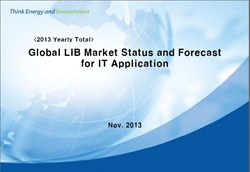 Rockville, MD (PRWEB) January 02, 2014
Global LIB Market Status and Forecast for IT Application
The total shipment of IT LIB reached 5,054 million cells in 2013 from 4,911 million cells in 2012. The year on year growth slowed to 2.9% in 2013 from 8.5% in 2012. The reason for the slow growth was the market saturation of smartphones which started during 2013.
The IT LIB market was slow in general in 2013, however the two key factors are expected to have a big impact on the industry. The first is the TESLA Effect and the second is the continuous growth of Tablet PC (including low cost White Box in China). TELSA is expected to sell 21,000 vehicles in 2013 and the amount of cylindrical battery which Panasonic of Japan supplied is expected to reach 180 million cells. Supporting a positive market view, 110,500 vehicles of Model S and Model X are expected to be sold in 2015 and 834 million cells of battery are to be supplied.
To order this report:
Global LIB Market Status and Forecast for IT Application
Contact: Shauna
800.298.5699
Customerservice(at)marketresearch(dot)com
SNE Research
SNE Research has been founded in order to provide global market research and consulting services in renewable energy industry including solar energy, fuel cell and wind power, secondary battery market which is expanding its area from IT to mass energy storage system, high efficiency new lighting market such as LED and OLED.
About MarketResearch.com
MarketResearch.com is the leading provider of global market intelligence products and services. With research reports from more than 720 top consulting and advisory firms, MarketResearch.com offers instant online access to the world's most extensive database of expert insights on global industries, companies, products, and trends. Moreover, MarketResearch.com's Research Specialists have in-depth knowledge of the publishers and the various types of reports in their respective industries and are ready to provide research assistance.
Follow us on Facebook http://www.facebook.com/marketresearchdotcom
Follow us on Twitter http://www.twitter.com/marketresearch_
Global LIB Market Status and Forecast for IT Application - Table of Contents:
1. Preview
1.1 Global LIB Market Share Status and Forecast for Major IT Applications
1.2 Korea Major 2 LIB Manufacturers Status
1.3 Global IT LIB Capacity Status and Forecast
1.4 Global White Box Market Status and Forecast for Tablet PC
1.5 Impact of Tesla and Cylindrical Battery Market Forecast
2. Global LIB Market Status and Forecast (2011 ~ 2018F)
3. LIB Supply Status by Application and Customer
4. Four Major Taiwan Packers??SCM Status
5. Cylindrical 18650 LIB Price Status