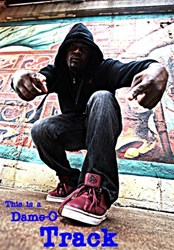 New York, NY (PRWEB) December 31, 2013
Award winning producer and artist, Dame-O has officially released his highly anticipated new album, "Dame Meets World" available for download on the following sites: Theindie.biz and http://www.dame-o.net.
The Chicago native has put his one-of-a-kind, hip hop & soul flavor on this 16-track album. "Dame Meets World" also features artists from Chicago and New York including Sean Ace, Que Billah, RealT@lk, Jay Willa, Jimmy Wells, Phase One and Kish. The first two singles, "Real Love" and "GreenTime" have already experienced heavy rotation on various on-line radio stations and blogs. "Real Love" was also aired on Next to Blow Radio in Miami.
As a versatile vocalist and rapper, Dame-O has built a reputation himself and his music. In 2010, Dame-O won the Ultimate Social Artist Contest for TheIndie.biz, and as recently as 2013, Dame-O received the National Adrenaline Award for Best Producer of a Skate Track.
About Dame-0
Dame-O is a multi-talented music producer, artist, songwriter, DJ, and entrepreneur that has become a force in the underground music industry. He continues to create hit tracks for himself and hundreds of artists. He has also created and developed two successful online social networks BeatstreetClub and Skatefam.
Along with his music, roller skating has always been one of Dame-O's most adored past times. Therefore, it comes as no surprise that he has become a pioneer of "Chicago's Skating Music." Dame-O has also created three of the most innovative Chicago Skate Music collages created (entitled Skate101, Skate102 and Skate103). These classic collections are adored by fans throughout the Chicago metropolitan area, and because of this work he has received recognition from of Stony Island Magazine (2010) as "Chicago's Next Big Thing."
Dame-O's musical style can be described as a refreshing combination of soulful hip-hop, vintage samples, and R&B which often encompasses playful, fun lyrics with a positive message. As a versatile vocal artist, Dame-O can be heard singing and/or rapping on a track. He is also a versatile musician, playing the keyboard, drums, bass guitar and percussion. Stay tuned for more information on release parties, promotions and the links for the album.
Broadening the scope and expanding his brand, he has since relocated to Brooklyn New York, and is now a staff producer for New York City's famous Quad Studio's.