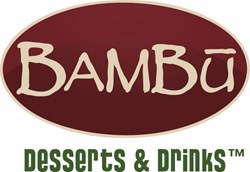 South San Francisco, California (PRWEB) December 30, 2013
The San Francisco Bay Area founded Vietnamese chè chain, Bambu Desserts & Drinks, announced the grand opening of its newest shoppe in South San Francisco this past weekend. "The love and demand for Bambu chè continues to expand across the Bay Area," said Kelly Nguyen, co-founder and CEO of Bambu Desserts & Drinks, Inc. "Our chè is true enjoyment in a cup for all ages."
Bambu - South San Francisco located at 2223 Gellert Boulevard, South San Francisco launched its grand opening this past Friday, December 27 at 9:00 am and they continued the festivities until 9:30 pm Sunday. "We were instantly hooked on our family first visited Bambu in San Jose," said Richard Tan, owner of Bambu - South San Francisco. "As soon our visits became a weekly family tradition, we knew we wanted to open our own Bambu shoppe as soon as possible."
Located in Gellert Square, Bambu Desserts & Drinks is surrounded by many popular restaurants such as Ling Nam and Topping. Also near Lucky Chances Casino, this Asian mecca serves South San Francisco and Daly City's dominant Asian communities including Filipino and Chinese. "It was great to see such wonderful local support this holiday weekend," continued Richard.
"It's truly great to see Richard and his family's passion and commitment to sharing Bambu's unique experience with their community," said Kelly. "My sisters and I are proud to share Bambu with South San Francisco and Daly City communities and we hope that they enjoy our chè and drinks as much as we do."
Bambu Desserts & Drinks was founded in 2008 by four sisters in San Jose, California. With 32 new shops opening across the U.S. in the past 19 months, Bambu has become nationally known for its fresh, healthy and colorful Vietnamese-inspired chè, fresh coconut drinks, Vietnamese espressos, blended coffees, and exotic smoothies. Their menu has nearly 100 desserts, coffees, teas and drinks to select from, but you can order any item "just the way you love it" including extra jellies, pearls, or shots of espresso.
For more information on Bambu Desserts & Drinks, visit http://www.drinkbambu.com.