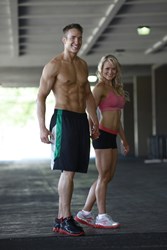 For most Americans, fitness is the top priority for the new year. If a fitter, healthier and happier lifestyle is the goal for 2014, but unsure of where to turn or which program to trust, look no further then Workout Anywhere by RundleFit.
(PRWEB) December 30, 2013
For most Americans, fitness is the top priority for the new year. If a fitter, healthier and happier lifestyle is the goal for 2014, but unsure of where to turn or which program to trust, look no further then Workout Anywhere by RundleFit. RundleFit's new 12 Week Trainer provides daily routines, accountability, motivation, a point system and community interaction for a game-like, life changing, all-level fitness solution. Whether a true beginner, or advanced athlete, Workout Anywhere has a fitness solution for all.
Let's face it, joining a gym around the new year is cliche, and a gym is only as good as knowing what to do with it. In addition, the gym can be costly, time consuming and actually a source of misinformation. On the other hand, one could jump into a highly acclaimed DVD series. However, most DVD home workouts only provide eight to sixteen workouts, cost hundreds of dollars, require an array of equipment and provide little variety for the novice user. In addition, true beginners can experience Over Training Syndrome and burnout with most home DVD programs. Applying RundleFit's constant improvement formula is vital for developing a healthy lifestyle and a lean, toned physique. One needs an all-purpose fitness program with true beginner home workouts. That's where Workout Anywhere by RundleFit steps in.
Justin and Jessica Rundle of RundleFit have nearly a decade of training experience with true beginners, intermediate fitness levels and advanced athletes. In addition, Team RundleFit has resurrected clients who were burned out by the most popular fitness program's shock and awe tactics. Truth be told, most fitness programs are not designed for the true beginners. Highly acclaimed fitness solutions generally use the advanced fitness solution shock and awe approach instead of creating true variations and training modules for beginner and intermediate users.
RundleFit's Workout Anywhere is owned and operated by Justin and Jessica Rundle (career trainers, nutritionists and writers and fitness models). Each had their own weight loss journey as well as highs and lows along the way (thanks to major fad diets and get fit quick schemes) but transcended the journey to live a happy, healthy, manageable lifestyle. All this was accomplished through their constant, gradual improvement formula. It worked for Team RundleFit, and has worked for countless others.
Now and for the first time ever, a true beginner can follow an epic home workout routine with life changing results. RundleFit's 12 Week Trainer provides daily direction, accountability and even has a game-like aspect installed. Members can earn points, awards, badges and real milestone prizes/unlocks. This total home workout and fitness experience is a one of a kind, healthy lifestyle formula because it teaches and rewards members for applying regular, fat burning workouts and nutrition plans into a busy lifestyle. In addition, members are encouraged to communicate with their fitness community and real life coaches Justin and Jessica Rundle.
To encourage constant improvement, true beginners through advanced athletes are encouraged to move beyond the 12 Week Trainer (this is where most fitness programs stop) and create healthy lifestyles by joining one of the other phases or Workout Anywhere training schedules. In addition, the later phases of the program provide larger and more valuable fitness incentives. With a commitment of 15 minutes and from the convenience of mobile devices, Tv's and tablets (no more outdated DVD's) one can have the best workout of their life.
More About Workout Anywhere by RundleFit:
For true all-level home workouts, traveling workouts or anywhere routines and fat burning nutrition (including lifestyle plans and even a 7 Day Detox for immediate weight loss) Workout Anywhere by RundleFit is the answer. RundleFit's workout formula provides the appropriate variation and pace for beginners, intermediate and advanced members. On top of this formula, RundleFit has over 60 workouts and counting to satisfy anyones total body strength, conditioning, core, plyometric and flexibility needs and can be achieved with little to no equipment.
All fat burning workouts, nutrition plans, recipes and coaching from master trainers Justin and Jessica Rundle is accessible through mobile phones, tablets, computers, televisions, Apple TV, Roku, Google TV or anything that connects to the internet. Get jump started on the new you with a free 30 day trial and then only $9.95/month.
Cheers with water!