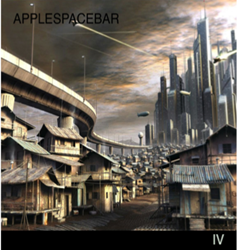 Applespacebar continues to stretch the boundaries of guitar oriented rock with such standout tracks on their forth coming album.
Birmingham, Alabama (PRWEB) December 30, 2013
December 3, 2013 marks the release of "IV", the aptly titled fourth album from modern alternative rock band Applespacebar. Hailing from the southern United States in Birmingham, Alabama, Applespacebar has in a relatively short time created an impressive body of work, releasing 43 songs in less than five years. Although greatly influenced by such rock greats as Stone Temple Pilots, Led Zeppelin, Soundgarden, and Coldplay, Applespacebar continues to stretch the boundaries of guitar oriented rock with such standout tracks as "Spreading Fire," "All Eyes On You," and "Castle Walls."
Applespacebar's music can be heard on TheIndie.biz.
The new album is available on all digital outlets including iTunes, and was produced by veteran producer Ben Trexel. (http://www.benzenmusic.com) Applespacebar was started in 2008 when longtime friends Ben Trexel and singer Johnny Nine reconnected at a party. Soon after writing sessions began, bassist Chipper Bonds and drummer Lake Trechsel were added to the lineup. Their debut album "Welcome To The Dream" yielded the hit "Blinded," which sold very well internationally. The second album, "Songs You Might Like," released in 2010, included the powerful single "Little Box of Secrets," and further garnered the quartet critical acclaim. Trexel and Nine feel that the band has truly hit a sweet spot with the fourth album. Says Trexel, "We have attempted to really get to the point with the songs quickly, only one song is over 4 minutes long."
"Obviously we live in a time of extreme ADD by listeners and there really can be very little filler. Everything's got to keep moving, stay interesting, and reveal new sonic flavors with every turn." The international audience continues to grow with sales in Australia, South Africa, and South America. The band has yet to reach critical mass in the U.S. which seems to be fine with the band. We always intended for our music to be international from when we started.
About theindie.biz
theindie.biz is the music industry's leading marketplace for indie music. Founded by Damon Cleveland in 2008, theindie.biz helps expose new music created by indie artists and indie labels to a global audience of music lovers and impassioned fans. theindie.biz has 20,000 registered artists members in rock, pop, hip hop, R&B, and other genres. Additionally, theindie.biz has over 200,000 likes on Facebook (http://www.facebook.com/theindiebiz) and more than 100,000 followers on Twitter (http://www.twitter.com/theindie). To learn more, please visit http://www.theindie.biz.