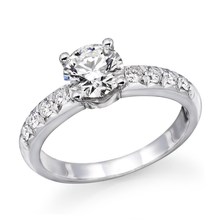 These are quality products that will make their dollars stretch to get great buys.
(PRWEB) January 23, 2014
Valentine's Day is almost here. For many searching for a romantic and memorable gift, planning the perfect gift for their partner begins months in advance—often a year in advance—in hopes of buying a gift that their partner will be wowed by. In recognition of Valentine's Day, Capri has accounted a sale on all handbags as well as diamond jewelry from January 15 to February 14.
Launched in 2012, Capri began as a company that offered deals on photography equipment. Within one year, the company tested the waters with selling select high-end jewelry. As new customers Googled their way to the website, the company found success as a go-to online retailer for quality diamond jewelry. Since then, the Capri's jewelry category has become a focal point of their website and customers have returned because of the prices and above-average customer service they have received. The Capri Valentine's Day sale includes select items that are up to 50% off.
For consumers looking for a remarkable Valentine's Day gift, the love-bird holiday special on Capri jewelry may be just the place to look. The sale goes for one month so that consumers can select and order the piece that they desire. From January 23 to February 23, diamond rings,watches, necklaces, and handbags will be on sale. "These are quality products that will make their dollars stretch to get great buys," says site owner Mel Nickel. To receiving notifications of Capri's Valentine's Day special, visit their website at http://www.capricamera.com.
About Capri Camera
Capri's core philosophy is to remain a specialized, customer-centered company. With more than 21,000 products in inventory ready for shipping, customers have access to the most trusted brands in the imaging and fashion accessory industry. By purchasing products directly from key manufacturers, Capri is able to promptly deliver superior photography and optical equipment and fine jewelry to the consumer at exceptional prices.