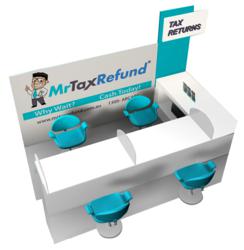 (PRWEB) February 08, 2013
Mr Tax Refund Pty Ltd, a nationwide provider of over-the-phone tax preparation services offering one day refunds, today are poised to explode onto the retail scene via an innovative new tax franchising program.
The captivating story behind Mr Tax Refund is now being rolled out to prospective franchisees nationally. The tax and accounting firm decided to franchise its system nationwide in order to further accelerate expansion of its popular service and give enterprising individuals with minimal capital the opportunity to get into their own business.
'Our franchisees will range from recent accounting graduates seeking to attain their tax agent licence through to experienced practitioners looking to supplement earnings during the busy tax season', said Mr Tax Refund CEO Stephen Burns.
The company has also built significant flexibility into the system to allow franchisees to build their business according to their individual capabilities and goals.
'We've made the strategic decision to keep the program cost of entry as low as possible to allow good candidates without a lot of money a chance get started and do well' said Burns. 'We will however be carefully selecting only those candidates with outstanding energy, people skills, technical knowledge, aptitude and a strong desire to succeed'.
Regarded as the fastest growing National tax preparer in the market, Mr Tax Refund has had rave reviews from clients since launching in in July last year. Since then the company has had a very successful debut lodging thousands of tax returns, and, advancing almost as many on the spot refunds. Mr Tax Refund's discount tax preparation service and one business day refund option challenged Australia's largest tax preparers H&R Block and ITP and now with the launch of its national franchise program, Mr Tax Refund is taking the fight directly to them.
'Our first franchisees are set to benefit from the latent demand we have created and we've already identified some areas with incredible potential, said Burns. 'Management and staff at Mr Tax Refund have a significant amount of franchising experience in the financial services industry. We have the ability to consult with franchisees to ensure that they get up and running quickly and profitably in their first tax season with us'
Mr Tax Refund is now seeking their first franchise owners throughout Australia. For further information visit http://www.mrtaxrefund.com.au/work-with-us.php
About Mr Tax Refund.
Commencing trading in June 2012, Mr Tax Refund is a Registered Tax Agent with a difference. The company offers its clients discounted tax preparation and lodgment. The company offers a one business day 'instant' refund option to clients who can't wait for their refund from the tax office, and a 'Double-Your-Fee's-Back' maximum refund guarantee. In FY 2015 it's conservatively estimated the Company will have serviced over 100,000 customers.
Media Contact
Stephen Burns, CEO
M. +61 449 611 000
P. 1300 829 227
F. 1800 329 829
E. stephen.burns@mrtaxrefund.com.au
W. http://www.mrtaxrefund.com.au
For more logos or graphics contact Stephen directly.