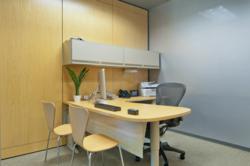 At TechSpace we define ourselves as being agile, customer focused and continually evolving in order to meet the demands of our clients. FlexSpace is a perfect example," said Victor Memenas, CEO
Aliso Viejo, CA (PRWEB) February 12, 2013
Throughout the last five years, the business landscape has continuously changed calling for innovative and evolved solutions. During this time, TechSpace has provided flexible, state-of-the-art office space and has continued to stay ahead of the curve by providing products such as virtual office. Today, TechSpace announces, FlexSpace, combining the best of virtual office and co-working space for small businesses, start-ups, freelancers, consultants and any other companies who need office space or an office presence without a full-time commitment. FlexSpace allows workers to have a professional co-working space with full internet connectivity as well as campus amenities such as conference rooms, onsite café, TechSpace IT support and more, without the commitment of a full-time agreement and pricing.
"At TechSpace we define ourselves as being agile, customer focused and continually evolving in order to meet the demands of our clients. FlexSpace is a perfect example," said Victor Memenas, CEO. "Not only will all FlexSpace clients receive best in class services and state-of-the-art office amenities, they will also be provided with an on demand co-working environment and collaborative work space without the cost of a full-time office space commitment."
For more information about FlexSpace and all of the advantages that come along with this program, please contact Matt Echols at mechols(at)techspace(dot)com or 949.389.5800.
About TechSpace
With multiple facilities across the United States, TechSpace's unique outsourcing platform for companies combines flexible workspace options with completely integrated state-of-the-art technology and business services. This "alternative office space" formula preserves capital and keeps overhead to a minimum, creating an ideal solution for small-to-mid-sized companies, especially during today's unpredictable economic times. Scalable terms allow room for upsizing or downsizing as necessary without the high cost of moving, including everything from workstation furniture, advanced voice and data telecommunications, IT infrastructure, reception services and office supplies.