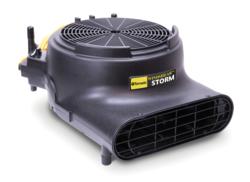 These new systems are all designed to address changing needs and challenges in the industry—including the increased need for more competitively priced, high-performing, Greener, and effective cleaning equipment—as well as changes in the needs and wants of
West Chicago, Ill. (PRWEB) February 18, 2013
Tornado Industries, a leading manufacturer of professional cleaning equipment has just introduced six new products for the professional cleaning industry.
These new systems are all designed to address changing needs and challenges in the industry—including the increased need for more competitively priced, high-performing, safer and more sustainable effective cleaning equipment—as well as changes in the needs and wants of facility managers and other end-customers.
According to Jolynn Kennedy, Marketing Manager for Tornado, the six new systems include:

The Windshear™ Storm air blower/dyer with "driven air technology" that can provide very high air velocity but uses less energy and power than conventional air blowers.
A walk-behind floor scrubber designed specifically for more moderately sized spaces, in keeping with changing building designs.
A complete range of Taskforce Commercial Wet-Dry Vacuums. "Wet-dry vacuums are coming into their own in the [professional] cleaning industry," says Kennedy. "Facilities are finding more and more uses for these tools."
The Marathon 350 Carpet Spotter that keeps carpets looking their best while reducing carpet cleaning frequency.
The BR 16/3 cylindrical brush automatic scrubber. "This system can clean more than 3,200 square feet per hour, making it a very high performer. A key benefit of cylindrical brush machines is that they are some of the Greenest and most sustainable floor machines now available."
A new Traction Drive BR 22/14 medium sized walk-behind scrubber for "one pass" floor cleaning.
Kennedy adds these as well as many of the company's products are now assembled in the United States with domestic and globally sourced parts.
"We know this is important to many people to support American Industry. We now find we can assemble many of our machines at very competitive costs here in the U.S., which allows us to pay very close attention to quality control."
###
Visit us on Facebook at: http://tiny.cc/sq5ql
Available For Interviews And Industry Commentary:
Tornado Industries President Michael Schaffer is available for interviews and industry commentary by calling (630) 818-1300
About Tornado:
Tornado Industries has been engineering quality cleaning equipment for more than 80 years. The company has a long history of developing innovative products and applying the latest technology to increase productivity, reduce costs, and improve safety. Tornado prides itself on always being on the cutting edge of cleaning solutions. Many of the company's products are manufactured in the United States with domestically and globally sourced parts.
Contact Information:
Jolynn Kennedy, Marketing Director
Tornado® Industries, Inc.
333 Charles Court #109
West Chicago, IL 60185
Phone: 800-Vacuums (800-822-8867); Fax: 630.818.1301
Chicago Phone: (630) 818-1300
e-mail: info(at)tornadovac(dot)com