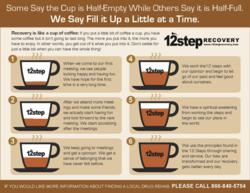 I never looked at recovery that way...Clever Infographic!
Seal Beach, CA (PRWEB) February 05, 2013
Millions of people worldwide struggle with addictions to many substances or harmful behaviors. While following a 12 step program has been proven to be successful to help alcoholics and those with other substance abuse issues, many addicts and alcoholics find it difficult to find the encouragement they need 24 hours a day. At http://www.12steprecovery.com anyone can find support they need. The website is available 24 hours a day 365 days a year. It features a forum, chat, blogs and other resources where recovering members can connect with one another in a private, virtual setting. This format doesn't take the place of meetings and support groups that most people in recovery attend regularly. It is intended to be a safe and secure setting for interacting with others on the same path. This website also gives its' members a place to express their feelings to others or in a blog. They have now also added a fun 12 Step Infographic showing how to get the most out of recovery.
The 12 Steps can help everyone that wants to live a clean and sober life. By applying the 12 Steps to their daily life many people find the hope and belonging they have always searched for. This website is a great way for people from anywhere in the world to connect and support each other in their journey of discovery and recovery. Anyone can sign up for a free account to enjoy the full benefits that the website has to offer, or they can get more information about how this website can help them in their recovery from addiction by visiting their website.
About 12 Step Recovery:
12 Step Recovery is a web-based community for all persons in any 12 Step fellowship. It is free of charge and provides a space for members to share their thoughts and feelings anonymously in a safe environment. 12steprecovery.com provides a space to blog, a forum, a chat and other features for the 12 Step community.