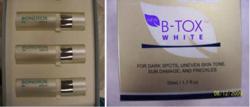 IsItFake.org has been created to help combat the problem of counterfeiting in three ways," explained Mike Santoni
Orange County, California (PRWEB) February 28, 2013
Consumers and brand owners stand to benefit from Isitfake.org a website launched by investigation firm, Santoni Investigations, to facilitate the identification and reporting of counterfeit goods. Isitffake.org makes it possible for consumers to submit suspected counterfeits for evaluation. Each "fake finder" report is evaluated to make a determination, working with brand owners whenever possible, as to the authenticity of the item reported. Confirmed counterfeits or "fakes" are posted to the site's gallery, becoming a searchable resource for other consumers.
According to the Global Intellectual Property Center of the U.S. Department of Commerce, intellectual property theft costs U.S. businesses between $200 billion and $250 billion each year and the loss of 750,000 jobs, and poses risks to public health and safety through exposure to and use of counterfeit products.
IsItFake.org has been created to help combat the problem of counterfeiting in three ways," explained Mike Santoni, Director of Investigations at Santoni, which initiated the IsItFake.org project. "First, consumers can reach out for help determining whether an item they have purchased is legitimate branded merchandise, or a knock-off. Secondly, each time isitfake.org is able to conclusively identify and report on a counterfeit, it adds to the searchable gallery on the site as a resource for the public. And finally, it provides brand owners with a new source of information about knock-offs that they can use in their anti-counterfeiting efforts."
Reports of counterfeit items can be submitted through IsItFake.org anonymously. "We thought it was important that consumers be able to use the site without having to identify themselves, so there's no reason not to submit a question or report through the site," explained Tim Santoni, President at Santoni. "Our objective is to collect and share intelligence about counterfeits and how they are distributed and sold, which will help consumers better inform themselves and help brand owners protect the integrity of their brands, products and reputations."
The site is located at IsItFake.org
About Santoni Investigations:
Santoni Investigations is headquartered in Orange County and has offices throughout California and the United States with partners worldwide. Founded in 1975, Santoni Investigations provides professional investigative services for the management of insurance fraud, including surveillance, location of persons, asset identification and process of service nationwide. The background research team offers employment screening, background checks, tenant screening and due diligence investigations. Santoni also provides trademark usage, acquisition, compliance and infringement investigations to brand owners and trademark professionals. The firms Intellectual Property division specializes in anonymous specimen acquisition for anti-counterfeiting efforts, including documented chain of custody control, and the anonymous negotiation and acquisition of Internet domain names.
They may be contacted at http://www.santoniworldwide.com or by phone, +1 949 900-3400 (toll free from within the United States: 1-800-498-1097).