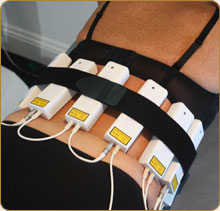 I lost 20" off my torso. Wonderful!
London, Northamptonshire (PRWEB UK) 27 February 2013
Homefield Grange is the leading detox retreat in the UK that offers the latest treatments and packages to help individuals work towards their weight loss and wellness goals. They are pleased to announce they are now offering LipoGenie laser treatments as optional treatments for their residential guests.
LipoGenie utilizes the most recent advances in laser technology to deliver astounding inch loss results and it has built up scores of satisfied clients when used in clinical detox environments. LipoGenie works by centering low level laser light on the body's fat cells which then causes a chemical reaction which helps break down the fats in the body. It triggers a completely natural process of inch loss as the fat cells in the body decrease in size and the inch loss is usually achieved directly after a single session of treatment.
Homefield Grange Detox Retreat is now offering the LipoGenie treatment as a trial in addition to all the regular treatments and therapies on offer. These sessions will be available for all guests who book into the centre until April, when a decision will be made on whether or not to include the treatment in their weight loss packages. The LipoGenie treatments perfectly complement the range already on offer at Homefield Grange, with all therapies on offer on a flexible, bespoke basis allowing guests to pick and choose which they believe will suit their needs best.
Homefield Grange says "LipoGenie inch-loss laser technology is an exciting development which is ideal for helping guests along their journey towards their perfect body. Combining this new treatment alongside the others available at the centre, as well as receiving advice and guidance from fully trained staff is a considerable step towards rejuvenating and reinvigorating the whole body."
Company information
Homefield Grange is a dedicated, established and permanent spa retreat open 51 weeks of the year, assisting clients making positive changes towards their health and well-being. This caring team of qualified practitioners will provide all the help you would expect from a professional organisation.
For more information about Homefield Grange you can visit http://www.homefieldgrange.co.uk or call 01536 712219 or you can email enquiries(at)homefieldgrange(dot)co(dot)uk