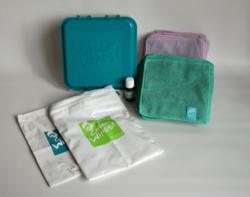 'We've had amazing feedback from customers who've used them on their very sensitive baby and the wipes have helped soothe the irritation caused by eczema, disposable wipes and nappy rash'
Brighton, East Sussex (PRWEB UK) 1 February 2013
'We know that some parents are squeamish about poo and are never going to use washable cloth baby wipes for bottoms' says Helen Rankin, Marketing Director of Cheeky Baby Products. 'But actually your child will need face and hands wipes after meal-times and when out and about for much longer than they're likely to be in nappies. Our research says that baby wipes of some sort are often needed until children reach the age of 5 and at around £200 per year on disposable wipes*, that's a lot of money!'
Unlike many disposable baby wipes, Cheeky Wipes for Hands & Faces are simply soaked in water with a very small percentage (0.16%) of baby safe essential oils which makes them perfect baby wipes for sensitive skin and eczema. 'We've had amazing feedback from customers who've used them on their very sensitive baby and the wipes have helped soothe the irritation caused by eczema, disposable wipes and nappy rash' Helen continued.
The Cheeky Wipes 'Hands and Faces' washable cloth baby wipes kit' contains 25 supersoft micro-fibre or bamboo washable cloth baby wipes which are soaked in water with approximately 0.16% mandarin or lavender / Chamomile essential oil solution which is kind to sensitive skin. There's also an easy-opening storage container for using at home and wet-bag for carrying your clean wipes when out and about. When the wipes have been used, you simply pop them into the wash with your next laundry load, then reuse. Simple.
And as if the money saving and skin-friendly benefits aren't enough, the wipes are also environmentally friendly, as you're not contributing to landfill with each wipe.
The Cheeky Wipes 'Hands and Faces' kit is priced at £25.95 and is available exclusively from http://www.cheekywipes.com and amazon.co.uk
*Assuming one packet of disposable wipes, RRP £2.49 per week x 52 weeks = £255!
To learn more about Cheeky Wipes – Hands & Faces washable cloth baby wipes kit:
Visit:http://www.cheekywipes.com
Contact: Helen Rankin
Phone: 07884 115 149
About Cheeky Wipes: Cheeky Wipes was founded in September 2008 and is headquartered in Seaford, East Sussex. The Company designs, markets and sells the world's first natural, cloth baby wipes "all-in-one" system. Cheeky Wipes boasts the unique and practical combination of being better for baby, the environment and money-saving. The Cheeky Wipes individual kit products are also sold separately. Cheeky Wipes products are available on the company website, in Australia through http://www.cheekywipes.com.au and in Europe via http://www.cheekywipes.eu