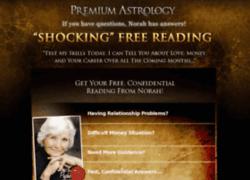 Now everyone can access astrological guidance using Norah's Transit Guide, Ebooks, Extended Reading Ebook, and several sponsored offers
- no prior purchase necessary.
Phoenix, AZ (PRWEB) February 02, 2013
2013 is here, "out with the old, and in with the new". Getting a report is more than just words with Norah, it's an experience which is what makes her so popular and endeared.
After reading through thousands of testimonials, and suggestions from the millions using Norah's guidance reports, Premium Astrology decided it was time to make Norah more accessible to the many who have not heard about "Norah Guide". Now with websites on Facebook, Twitter, LinkedIn, Google+, Pinterest, About.Me, and Tumblr, – talking to Norah is easy.
In addition to astrology reports users can sign up for gifts, offers, and leave customer feedback with a simple click.
Read what others have been saying about Norah Guide:
"No one could possibly know my childhood and what I have been through up to adulthood. It was like a breath of fresh air for someone to verbalize my suffering. To see it in written form, and to honestly know that someone can see my past and present and with pinpoint accuracy list all my attributes and what to do now...was a blessing. Thank you and God Bless:) " - Janice
"I am looking forward to having a sense of purpose and direction. I am looking forward to more self-confidence and stability. I will use the Transit Period guide to grow and learn. Feel like I have some guidance now. I will continue to refer to my guide in the coming weeks." – Helen Chang, Scorpio
"I am truly amazed by the reading I received from Norah. She has described my nature as only a mother could describe knowing her child. I feel this is a remarkable thing to do, as I am an extremely reclusive person. I am looking forward to my future now, as it is time for a complete change in all aspects of my life. Norah has helped me realize my own strengths and potentials to do this, and i thank her for my full reading and week-by-week guide to keep my mind on target. Many thanks Norah. Regards" Barbara-Ann, Capricorn
Visit https://premiumastrology.com/ for more information.
###
Premium Astrology is proud to help men and women all over the world enhance the quality of their lives through spiritual enlightenment. Premium Astrology provides fast, reliable astrological reports, and a variety of other services using the experience of Astro-Clairvoyant Norah Guide. The individual success of each of their clients is their highest priority, and Premium Astrology is available to provide live support 24 hours a day 7 days a week. For more information visit: https://premiumastrology.com/.