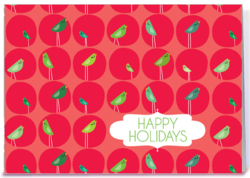 "It's a missed opportunity and a waste of time, paper and money to send a generic card with no effort, thought or purpose put into it." - Joel Wishkovsky, co-founder and CEO of Card Gnome
BOULDER, Colo. (PRWEB) February 27, 2013
Chances are, at this point in December, holiday cards are starting to arrive on your doorstep in droves. What a merry time of year to open your mailbox to find greetings from all of your family, friends and colleagues rather than a bunch of junk mail and bills! Warm, cozy feelings aside, we can all relate to a shared disappointment of opening a card that turns out to be a generic, mass-produced card with no effort of personalization. "You know it's a bad sign if the most personalized part of the greeting card is the address label," said Joel Wishkovsky, co-founder and CEO of Card Gnome, an online greeting card company powered by independent artists.
"Let's not forget how important sending a personalized note from the heart is during the holidays. It's an ideal time of year to touch base with long-distance relatives, old friends, and extended family to remind them how much they mean to you," said Wishkovsky. "It's a missed opportunity and a waste of time, paper and money to send a generic card with no effort, thought or purpose put into it."
Card Gnome allows users to write a personalized note in every card before it is printed, stamped and sent via USPS. This means you can go beyond the informal, effortless Facebook wall posts and send a card that will be filled with meaning, shared special memories, inside jokes or a message of thanks. In addition to writing a custom note, here are five more personalization tips from the team at Card Gnome that will ensure your card is received with joy and isn't destined for the recycle bin next to fundraising letters and unwanted catalogs.
1) Give a card that makes a meaningful connection. Stores only offer a few hundred cards so you often have to settle for the best card available. Head to CardGnome.com where you can filter through thousands of cards and find the perfect connection.
2) Give to a charity by selecting a charitable card. Why not make a contribution to a charity while sending a greeting card at the same time? Two birds; one stone. Card Gnome is partnering with two non-profits to donate $1 for every card sold. The first is Blood:Water Mission that strives to help villages in Africa overcome HIV/AIDS and the water crisis. The second is Big Brothers Big Sisters of Colorado, an organization that provides mentorship services to at-risk youth.
3) Give a piece of home with a locally designed card. Send cards that were created by artists from your hometown. This is fun for friends and family that live nearby who will appreciate the local connection as well as for family members from out of town that can appreciate a card from where you live. Card Gnome has hundreds of independent artists from towns and cities across the United States for you to choose from.
4) Give your loved ones the giggles. Most people don't equate funny cards with Christmas or Hanukkah so sending a funny card will surely make them laugh. Card Gnome allows users to filter down their vast selection of holiday cards to uncover the funny ones. The company also has an explicit filter if you're feeling naughty over nice.
5) Give them a sense of nostalgia. Card Gnome also features a "sentimental" mood filter to easily find cards that feature beautiful artwork and photography as well as cards with uplifting messages for any family scenario.
New Card Gnome members that sign up with Facebook will receive their first card for free. First card trials at Card Gnome are available to everyone year round, which provides an all access experience. Card Gnome brings the convenience of a favorite card store, writing desk and local post office all in one place online. Looking for funny Christmas cards for women? CardGnome.com has a library of over 6,000 greeting cards for every occasion.
About Card Gnome
Card Gnome is an online greeting card company offering personalized paper cards. Based in Boulder, Colo., Card Gnome offers the ease of online ordering while remaining dedicated to preserving the time-honored tradition of receiving real cards in the mail. The company works with an exclusive community of independent artists from around the world. Customers can select from thousands of cards and schedule delivery up to one year in advance. Card Gnome's technology focuses on helping people find the perfect card. All cards are printed on 100% recycled card stock and packaged in biodegradable materials. For more information, please visit http://www.cardgnome.com and follow on Facebook.com/CardGnome and Twitter.com/CardGnome.