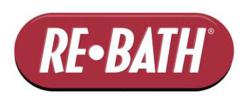 Out of all the companies we considered, ElementsLocal's software platform was the complete package that fulfilled all of our online marketing needs.
San Luis Obispo, CA (PRWEB) February 26, 2013
Re-Bath, the nation's leading bathroom re-modeler with more than 250 locations, has chosen ElementsLocal, a Franchise Online Marketing Software platform, to implement their franchise wide online marketing campaigns.
"Aside from attracting new customers, we wanted to use the latest Content Management Software (CMS) available for our Franchisees and Corporate staff to easily and cost effectively maintain and update websites. Out of all the companies we considered, ElementsLocal's software platform was the complete package that fulfilled all of our online marketing needs," says, Mark Dawson, CEO of Re-Bath.
The implementation of hyper "localization" for the Re-Bath franchise business requires a unique approach to online marketing, which is an everyday solution that ElementsLocal provides its 9000+ clients.
About Re-Bath
A beautiful, new bathroom doesn't have to mean weeks of workers, debris and expense. Over 30 years ago, Re-Bath® reinvented bathroom remodeling with a quick and convenient solution. Since then, they've renovated millions of bathrooms with their high quality DuraBath® SSP material cleanly, quickly and affordably without interrupting life at home. And it often takes just a few days to complete a client's customized bathroom. Re-Bath® presents clients with an alternative to worn out bathtubs, outdated tile walls and dingy shower bases. They offer a range of replacement bathtubs, walk-in bathtubs, bathtub to shower conversions and much more. They're sure clients will find it's easier to enjoy a long soak or refreshing shower when they're surrounded by a freshly renovated bathtub or shower.
About ElementsLocal
ElementsLocal is a software company with 13 years experience building online marketing tools. In 2007, we created ElementsLocal, franchise online marketing software. Over 3,500 clients currently use this software platform to manage their local online marketing activities. Based in San Luis Obispo, CA, ElementsLocal clients include Home Helpers, Glass Doctor, CertaPro Painters, Floor Coverings International, Curves, Jiffy Lube, Sport Clips, Pearl Vision, Lens Crafters among others.
ElementsLocal's executive team is available for speaking engagements and article contributions related to innovative franchise online marketing strategies.
We provide an online marketing platform to over eight thousand Franchisees worldwide. We speak on this topic regularly and would be interested in speaking at your event. We typically speak from 'Best Practice' perspective and fuse online marketing expertise with our deep understanding of franchising. We are currently attending: Fransummit, IFX Conference, International Franchise Association, and annual conferences for the Dwyer Group, Sport Clips, Snap Fitness & Maaco.
To coordinate, please contact Chad Jordan at (805) 547-1160, ext 211 or cjordan(at)elementslocal(dot)com.