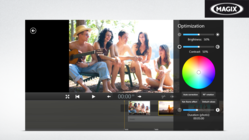 Mobile Video Editing At Your Fingertips
(PRWEB) February 20, 2013
One of the leading international providers of software, online services, and digital content, has released MAGIX Movie Edit Touch – the company's first "serious" app to offer timeline-based video editing on Windows 8 PCs and tablets.
With Movie Edit Touch many video editing features can now be individually customized to suit the user's needs. There is now no excuse for creating dreary videos for those using a Windows 8 tablet: The touchscreen technology used by MAGIX Movie Edit Touch app allows videos to be edited, optimized and shared online quickly and easily. Users can record their videos with their tablet or import them from an SD card or video camera and off they go!
Quickly and easily remove unwanted scenes, change the scene order, add some text and titles, give movies a special "look" with sleek transitions and professional templates for creative special effects are all easy with MAGIX Movie Edit Touch. Users can even add a personal touch with their own background music, audio commentary and photos
An update to the desktop version of MAGIX Movie Edit Pro 2013 is scheduled for early 2013, and will enable saved projects to be edited on home computers.
Movie Edit Touch Features:

Import videos, photos, music from folders or SD cards
Trim, edit and arrange clips
Automatic tracking shots for photos
Automatic and manual colour correction
Transition effects
Design and add titles
Audio mixer
Full screen previews
Load/save projects
Project files are fully compatible with MAGIX Movie Edit Pro 2013
Upload and share videos online
For Additional Information: http://www.magix.com/us/apps/movie-edit-touch/
Pricing and Availability:
The video editing app from the market leader is exclusively available in the Windows Store priced $5,99. MAGIX Movie Edit Touch is optimized for Windows 8 tablets but supports all other Windows 8 compatible devices. A version for devices with ARM processors such as Surface tablets was available from 20 December, 2012
http://www.magix.com/us/apps/movie-edit-touch/
About MAGIX:
MAGIX is a leading international provider of high-quality software, online services and digital contents for multimedia communications. Since 1993, MAGIX has been developing leading technologies for creation, editing, management and presentation of photos and graphics, videos and music. Internationally, MAGIX operates from branches in the USA, Canada, the UK, France, Italy, Spain and the Netherlands. The product range is targeted towards laymen and professionals alike and goes beyond the PC range to include seamlessly integrated online and mobile applications.
According to its retail sales figures, MAGIX leads in the multimedia software sector in Germany and the most important European markets, and is one of the most successful competitors in the USA. Twenty years of market presence as well as one thousand awards worldwide testify to the company's power of innovation. http://www.magix.com
Media Contact: Nova Fisher
Tel: +44 1442 351035
Email: nfisher(at)magix(dot)net