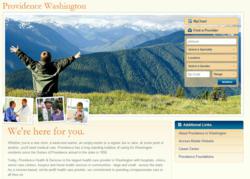 Cambridge, MA (PRWEB) February 06, 2013
MedTouch, the leading provider of web strategy and online solutions for healthcare, announces two strategic websites. Washington.providence.org and montana.providence.org are powered by the MedTouch Healthcare Accelerator Package for Sitecore, the leading .NET Content Management System.
MedTouch delivered the new web platform for Providence Health & Services, combining 182 clinics and hospitals as well as thousands of physicians across two states into a single cohesive web experience.
The MedTouch Healthcare Accelerator Package enables rapid implementation of Sitecore for hospitals and health plans by leveraging a common framework and healthcare-specific taxonomy. This allows for common features to be rolled out in days instead of months.
MedTouch also deployed several of its healthcare-specific modules for Sitecore, including: Find a Physician, Location, News, Advanced Site Search, Services, Content Us, Krames StayWell Health Library as well as a new Mobile Website.
The implementation allows Providence to leverage and re-use content from multiple sources, creating efficiencies of scale they could not achieve with their previous technical solution. And the addition of Sitecore's Digital Marketing Suite allows Providence to customize the content experience, addressing consumers' emotional as well as informational needs.
"We've been honored to work with the Providence team on building out these sites," said Paul Griffiths, CEO of MedTouch. "The scale of this project, with its multiple technical components and reconciliation of complex metadata concepts, was an exciting challenge. Best of all, thanks to our healthcare specific modules for Sitecore, we were able to deliver this project ahead of schedule."
The improved online experience shifts from an internally-focused structure to a consumer-focused organization of content, activities, and tasks that connects each of the steps throughout the patient lifecycle. The Sitecore platform functionality delivers a best-of-class CMS authoring experience to allow for comprehensive intelligent content reuse. It also supports the organization's growth in rolling out a Patient Health Record (MyChart).
About MedTouch
MedTouch focuses exclusively on helping healthcare organizations succeed online. Since 2004 we have combined digital strategy with creative and technical excellence to ensure our clients -- hospitals, physician groups and health plans nationwide – achieve results that matter. From healthcare specific content management solutions to user experience design; from results driven search marketing and content strategy services to public facing websites and employee oriented Intranets, MedTouch makes healthcare interactive.