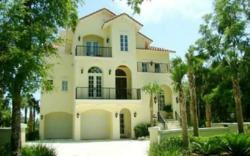 Amelia Island Lifestyle
"Luxury for Less".
Fernandina Beach, FL (PRWEB) February 01, 2013
Many buyers are flocking to Amelia Island's Fernandina Beach to view the incredible foreclosures, bank owned homes and short sales. These homes are reasonably priced with numerous amenities. Buyers who can spend over $1 million will find a few foreclosed homes with luxurious amenities featured on the Chaplin Williams website. The more affordable foreclosed homes and properties range from $8,500 to $350,000.
With Fernandina Beach foreclosures, buyers can obtain a huge discount. For instance, one particular vacant property entered the market at $49,000 and now, the property is listed at $8,500. The price reductions on these properties are amazing for buyers who can afford to invest. This particular property is one-half acre of undeveloped land that is near the beach and the Historic District. Many buyers prefer the dead end street with numerous trees and privacy. The lot is zoned for residential development.
Vacant lots are not the only foreclosures available. There is one particular foreclosed property that is valued over $1 million. Investors can obtain four bedrooms, four bathrooms, and one-half bath sprawled over 5,200 square feet. This Mediterranean-style home, custom-built in 2007, is listed at $1.845 million, and has been on the market for 226 days.
Any buyer would love to have this home. This home is impressive with hardwood floors, Corinthian columns, and a room large enough for a grand piano. The windows of the home are floor-to-ceiling to allow copious light through the home. In the kitchen, granite countertops are featured with white cabinets and also an island with cherry wood cabinets.
An indoor pool is also featured with copious windows surrounding the pool area. Most people love this home because of the brightness the home offers. Buyers in this market will obtain a good deal with this home.
The more affordable homes are not only Fernandina Beach foreclosures but also Fernandina Beach REOs, Fernandina Beach short sales and Fernandina Beach bank owned homes. These homes feature amenities such as hardwood floors, marble or granite countertops, travertine tiles, cherry wood cabinets, stainless steel appliances, and high ceilings. Garden tubs and luxurious bathroom vanities are also featured in these more affordable homes.
The homes are more than 2,500 square feet with expansive back yards. Some homes feature large pools that are ideal for throwing home parties. Buyers are impressed with these homes because of the close proximity to the beach and other amenities in the Fernandina Beach area.
Buyers in the market for a home should consider the Amelia Island, Florida Fernandina Beach area. Voted by Conde Nast as one of the "Top 10 Islands in the United States", there is much to see and do in the area, which increases the home's value over time. Consider this area for purchasing a home with luxurious amenities or for purchasing undeveloped land.