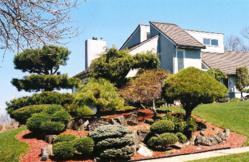 Morristown, NJ (PRWEB) February 28, 2013
Landscape Design and Gardening Services in Morristown, New Jersey
Dabah Landscape Designs is excited to announce that it is ready and able to help property owners get their maintenance and landscaping upgrades planned for 2013. With more than 20 years of experience designing properties and handling basic landscaping maintenance needs, Pamela Dabah is uniquely situated to arrange weekly, bi-weekly, or monthly plans that provide services from mowing and aeration to planting perennials and everything in between.
According to Dabah, who has a Master's degree in Horticulture and was the former director of Horticulture for the New York City Parks Department, the difference between any old yard and an experience comes down to the care put into maintaining the entire property. "Few homeowners or property managers have the time they'd like to be meticulous about the care of their lawns; most homeowners and renters simply cut the grass, weed and perhaps tend to a small garden," Dabah said. "Landscaping plans too often fall to the wayside and never come to fruition. In the right hands and with the proper, regular care, any yard can become the envy of the neighborhood as well as a lovely outdoor retreat."
Landscape Design Starts With Yard Maintenance
Pictures in magazines or lawns featured on popular home shows can look simply palatial. The fact remains that before that backyard was transformed by a landscape architect it was a patch of grass that required care and attention. According to Dabah Landscape Designs, lawn care for many home owners and renters starts with semi-regular mowing and stops with occasional watering. "More is required to transform your yard into the talk of the town," said Pamela Dabah. "This is where our services or those of a reputable lawn care or landscaping business of can be of assistance."
When it Comes to Yards, Dabah Suggests Thinking Outside the Box
Landscape design is so much more than simply mowing a yard and planting a few perennials. With the assistance of a landscape architect, anyone can turn a yard into a masterpiece. From landscape design to water features to outdoor kitchens, the possibilities are endless in terms of what can be done with a piece of property. Experienced landscape designer, Pamela Dabah, says size doesn't matter when it comes to the impact a yard can make on the overall look and feel of a piece of property. "Homeowners shouldn't let the feeling of having a small yard hold them back, as there are possibilities for any yard type. The addition of one unique feature to a yard can make it instantly go from a normal house to one that wows those passing by."
Landscape Design is More Than Just a Yard
When property managers open their minds to the idea of yards as relaxing retreats, they may find themselves needing some help turning their dreams into reality. With Dabah's lighting service for front yards, property managers and homeowners can showcase the beauty of yards and homes. Dabah Landscaping Designs can also help with gardening services that maintain the beauty of any property, presenting it in the best light possible.