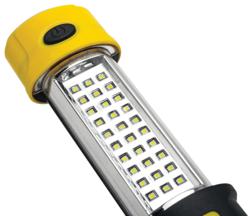 When working under a car, having light in tight spaces is critical
Pottstown, PA (PRWEB) February 28, 2013
The Eastwood Company has launched a new SMD LED retractable work light flashlight Combo – two powerful lights in one.
SMD, otherwise known as Surface Mount LED, is the next level of LED lighting. Unlike traditional LED's that are in epoxy enclosures, SMD LED's are mounted directly on the circuit board. This provides a powerful light with a wider viewing angle.
The Eastwood work light features 30 powerful SMD LED's that emit over 200 lumens and are 2x more powerful than the same count regular LED's. Featuring a retractable body, the user can control the amount of light with a simple sliding action.
This rechargeable work light is fully charged in 4-6 hours and offers 1.5 hours run-time. With two powerful magnets and a slip-resistant rubber over-molded handle, this light is tough enough for automotive and shop use, but also great for around the house. "When working under a car, having light in tight spaces is critical" said Evan Soda, Eastwood Product Manager.
Eastwood markets unique tools and supplies for repair, restoration, and modification of cars, trucks, and motorcycles. Founded in 1978, Eastwood constantly strives to develop new products to serve the home automotive hobbyist, as well as individuals and organizations focused on the restoration and preservation of automobiles and motorcycles. Contact Nick Capinski – ncapinski(at)eastwood(dot)com or 610-705-5404.