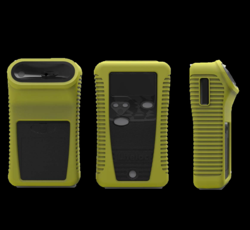 In every way superior to traditional passive alcohol devices.
Wheat Ridge, Colorado (PRWEB) February 05, 2013
Lifeloc Technologies, a global leader in mobile breath alcohol testing devices, today announced the launch of a new generation Passive Alcohol Screener. The FC5 Hornet. The new breath alcohol screener replaces old technology alcohol wands widely used for "zero tolerance" testing and "admissions screening" by schools, corrections, law enforcement and for workplace testing.
Kelly Silverman, Director of Product Development at Lifeloc, commented, "In every way the FC5 Hornet surpasses the performance of competitor's alcohol wands. Traditional alcohol devices can be bulky, noisy and have lengthy test and recovery times. The FC5 Hornet is easily carried and concealed. Results are fast and clearly visible on the backlit day/night LCD. For operator control and safety, breath test results are not displayed to the test subject. No mouthpieces or sampling cups are required."
The FC5 Hornet is designed for automatic or manual alcohol screening. In auto mode the subject blows onto the collector cone and a POS (alcohol detected) or NEG (no alcohol) result appears almost instantly. Perfect for rapid screening of large groups. When testing ambient air or open drink containers, the manual mode will allow the operator to trigger the test when desired.
Multiple test modes provide users the ultimate control and flexibility in any alcohol screening situation. Fully icon driven, the FC5 provides users with easy to understand prompts. The FC5 Hornet is available now from Lifeloc Technologies and our domestic and international distribution partners. For more information visit us at http://www.lifeloc.com.
Lifeloc Technologies has been a world leader in breath alcohol testing equipment for over 25 years. Lifeloc designs, engineers and manufactures precision fuel-cell based breath alcohol testing equipment (breathalyzers) for professional and personal use. We offer a complete line of Portable Breath Alcohol Testers (PBTs) and Evidential Breath Testers (EBTs) for use by law enforcement, corrections, schools and in the workplace. Lifeloc is your single source for alcohol testing equipment, drug screening supplies and education.
The information provided in this press release is informational purposes only and is not intended as medical advice.
This release includes statements that constitute "forward-looking statements" under the securities laws. Forward-looking statements often contain words such as "believe", "expect," "plans", "strategy", "prospects", "estimate", "project", "target", "anticipate", "will", "should", "see," "guidance", "confident" and similar terms. Forward-looking statements may include, among other things, statements relating to future and estimated sales, earnings, cash flow, results of operations, uses of cash and other measures of financial performance. All forward-looking statements involve risks, uncertainties and assumptions that may cause actual results to differ materially from those expressed or implied in the forward-looking statements. Risks and uncertainties include, without limitation, the effect of economic conditions in the markets in which we operate,the financial condition of our customers and suppliers; delays and disruption in delivery of materials and services from suppliers; potential intellectual property infringement by third parties; potential legal proceedings initiated against us; the effect of changes in tax, environmental and other laws and regulations and political conditions in states and countries in which we sell our products and other factors beyond our control. These forward-looking statements speak only as of the date of this release and we undertake no obligation to update or revise any forward-looking statements after we distribute this release. For additional information identifying factors that may cause actual results to vary materially from those stated in the forward-looking statements, see our reports on Forms 10-K, 10-Q and 8-K filed with the SEC from time to time, including, but not limited to, the information included in our Forms 10-K and 10-Q under the headings "Business","Risk Factors","Management's Discussion and Analysis of Financial Condition and Results of Operations" and "Legal Proceedings" and in the notes to the financial statements included in our Forms 10-K and 10-Q.