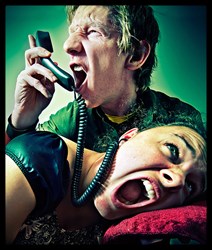 The candidate should send the hiring manager a thank-you note within 24 hours after the phone interview.
Gunter, TX (PRWEB) February 06, 2013
Following up a [Phone Interview with a Thank-You E-mail within 24 hours can set job seekers apart faster in today's highly competitive job market, according to Peggy McKee, renowned career coach and CEO of Career Confidential.
Phone interviews are often the very first step of the interview and hiring process. JobSeekers are not likely to get a call to come in and interview without some kind of conversation on the phone first.
Candidates often wonder how important telephone interviews really are. A resume gets the phone call. Now this one 10-minute conversation is the deciding factor as to whether or not the job seeker will get the in person interview.
Phone Interviews are the gating process companies use to whittle down their list of candidates. There is no second chance to be considered for an opportunity. This is the make-it-or-break it moment that determines whether or not a candidate can be in the running for their dream job.
Job seekers fail in the phone interview for two major reasons: they don't take it seriously enough, and they don't take into account the unique challenges a phone interview poses for them.
Phone interviews, just like other interviews, are really all about communication. Here's the problem: the vast majority of communication between people is visual, not the actual words they say. Think about body language, facial expressions, gestures, all the things that affect how your words are coming across. Those visual cues really do give you an advantage. On the phone, those cues are gone.
If you take the phone interview as seriously as a face-to-face interview, and you learn to work with the unique circumstances of a phone interview, you can succeed.
"Job seekers should follow-up a phone interview just as they would follow-up with a face-to-face interview," said McKee. "The candidate should send the hiring manager a thank-you note within 24 hours after the phone interview—and to do that, they have to send it by email."
Managers are often looking for that follow-up message and are using it as a gauging tool in the hiring process, according to McKee. Taking the extra time to send that message can make a job seeker stand out as the top candidate.
Job seekers can learn more about phone interview thank-you e-mails at Phone Interview Thank You Note Etiquette..
Additional phone interview follow-up tips from http://www.youtube.com/watch?v=cOTeTTpHaGU&list=UUUpIGr7JRwp0h7oieYS967w&index=98&feature=plcp __title__ Career Confidential on YouTube [Career Confidential can be found on YouTube __title__ Career Confidential on YouTube]
Career Confidential is a rapidly growing job search training company based in Texas that specializes in providing job seekers with powerful and customizable tools and techniques to get the jobs they want fast.
Since nationally-recognized recruiting and job search experts Peggy McKee (CEO) and Carl Chapman (CTO) founded Career Confidential in 2009,it has grown from one product, the 30/60/90-Day Business Plan, to more than 30 products to guide candidates through every step of the job search.
If you'd like more information about this topic, or to schedule a coaching session, please call Peggy McKee toll-free at 1-800-691-2562 or e-mail Peggy at Peggy(at)CareerConfidential.com.