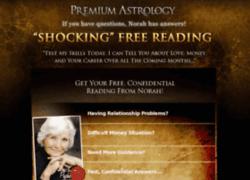 Humanity is proving we are changing the consciousness – one person at a time. Understanding is how we stay tapped into the Higher Guidance found in using astrology. - Norah
Phoenix, AZ (PRWEB) February 03, 2013
Happy New Year! Premium Astrology has collaborated with Norah Guide to develop and present new intuitive reports for January 2013 and beyond.
Norah Guide world-famous Clair-Astrologist has developed new reports created for the transitional periods of each Zodiac sign – prepared especially for January 2013. Norah Guide's additional features are now available on seven media platforms on FaceBook, Twitter, LinkedIn, Google+, Pinterest, About.Me., and Tumblr – talking to Norah is easy,
2013 will be known as the first Age of Healing. With the addition of the 13th Sign into new calendar reports – Norah Guide wants to prepare her subscribers with new transit reports styles created specifically for January 2013. These new zodiac signs are dates that, according to Norah, will prove to be very useful in the age of awareness of 2013.
Many are already feeling the Solar Progression of their natal signs – Norah has already done the work.
The New Dates for the 13 Zodiac Signs according to Norah are as follows!
Capricorn: Jan. 20 - Feb. 16
Aquarius: Feb. 16 - March 11
Pisces: March 11- April 18
Aries: April 18 - May 13
Taurus: May 13 - June 21
Gemini: June 21 - July 20
Cancer: July 20 - Aug. 10
Leo: Aug. 10 - Sept. 16
Virgo: Sept. 16 - Oct. 30
Libra: Oct. 30 - Nov. 23
Scorpio: Nov. 23 - Nov. 29
Ophiuchus: Nov. 29 - Dec. 17
Sagittarius: Dec. 17 - Jan. 20
Read the testimonials from previous customers:
"I was very impressed how accurate you were. You were so on target, thank you for waking me up. " - Diane
"That Norah hit the nail right on the head, and her accuracy to the letter. I [am] amazed." – Delfian
"She was right on! And how deep she was able to go into my soul." - Katie
Be prepared for the successes that await, and find the blessings for 2013 that are sought in one's life when one works with Norah Guide. At a time when many have discovered the Mayan Calendar has been misinterpreted – Norah Guide accurately interprets the coming transits for her subscribers, making it easy to receive the coming positive changes for 2013.
###
Premium Astrology is proud to help men and women all over the world enhance the quality of their lives through spiritual enlightenment. Premium Astrology provides fast, reliable astrological reports, and a variety of other services using the experience of Astro-Clairvoyant Norah Guide. The individual success of each of their clients is their highest priority, and Premium Astrology is available to provide live support 24 hours a day 7 days a week. For more information visit: https://premiumastrology.com/.