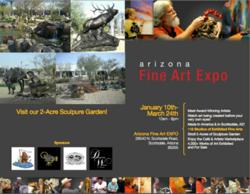 Scottsdale, AZ (PRWEB) February 02, 2013
Produced by the award-winning Thunderbird Artists, the Arizona Fine Art Expo is a vast forty-four thousand square feet of white tent assembled once a year to create more than 100 working artists' studios. Above all, the expo provides the chance to explore the artist process with each individual artist one on one and their inspiration and creative development regarding each work. Coupled with the vast spectrum of genres exhibited, from realistic depictions of the west to individual abstract interpretation, the Expo is unparalleled.
The Arizona Fine Art Expo is ideally positioned at the gateway to the foothills, where pristine mountain vistas, giant boulder formations and towering saguaro cacti create spectacular silhouettes with dramatic sunsets. The artists' studios are open daily from 10am until 6pm until March 24th.
Participating artists include: Olga Alexandrova, Ernie Apodaca, Guadalupe Apodaca, Kelly Athena, Carlos Ayala, Kim Ballard, David Barby, Arthur Benjamins, Dwight Bennett, Craig Bergsgaard, Nancy Bernesser, Janet Blumenthal, Jane Boggs, Jeanne Bonine, Suzanne Brown, Robert Burt, Susan Quin Byrd, Sandi Ciaramitaro, Jacqueline Cohan, Bob Coonts, Travis Crowther, Keith Dabb, Keith Dagley, Jess Davila, Gene Dieckhoner, Scott Donars, Cynthia Downs-Apodaca, Jelena Eros, Steven Failows,Deveren B. Farley, Phil Feaster, Marless Fellows, Caroll Forseth, Tom Fuller, Michael Gardner, Jessica Garrett, Diane Gilmore, Susan Hartenhoff Haygood, Dan Haygood, Christine Hauber, Joy Hartl,Larry Hayworth, L.C. Herst, Charles M. Huckeba, Beth Hyatt-Rapp, Lorene Ireland, Ben Kinne, Greg Kinne, Lauren Knode, Caroline Kwas, Donna Levine, Daniel Long, Kelby Love, Roger Lundskow, April MacQueen, Tom Martin, Tony Martin, Marlan V. Masteller, Walter Melnikow, Betsy Montoya, John Montoya, Lynnette Moody, Lara Moore, J. F. Mortenson, Dick Mueller, Stephen Mueller, Loretta Musgrave, Gene Myers, Lori Myers, Jason Napier, Marlene Pardi, Isabelle Posillico, Leo Posillico, Lynette Power, Gary Robertson, Jonah Runyanga, Bill Shaddix, Heather Soderberg, John Soderberg, Misty Soderberg, Pat Stacy, Debra Steidel, Hal Stewart, Ron Stewart, Matt Suess, Wei Tai, Charles Taube, Sam Thiewes, T.J. Thompson, Dave Venell, Scott Wallis, Willi Waltrip, Scot Weir, Roger Wermers, Ronald Wickersham, Paula Yates and Victor Yurivilca.
WHEN:
January 10th thru March 24th, 2013
Open 10am until 6pm, 7 days a week
WHERE:
Arizona Fine Art EXPO, 26540 N Scottsdale Road, 85254
Southwest corner of Jomax & Scottsdale Roads, North Scottsdale 5 miles south of Carefree & 5 miles north of Loop 101 (15 minutes)
WHO:
Open to the public
100 studios filled with award-winning artists
Easy access and wheelchair accessibility.
ADMISSION & PARKING:
Season Pass (one time fee) $10, $8 for seniors and military. Purchase passes at the gate or call ahead. Return as often as desired at no additional charge with Season Pass
Parking is free.
For more information visit: http://www.ArizonaFineArtEXPO.com or call 480-837-7163