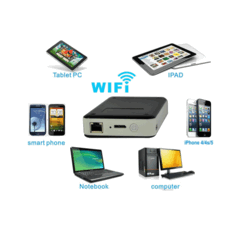 Supports up to 5 devices simultaneously and can be used as a power bank.
Shenzhen, China (PRWEB) February 20, 2013
Computers and gadgets are such a major part of people's daily lives. People use up computer and gadget storage space easily with all the various programs and applications and data that they store such as photos, videos and music. It is very easy to use up internal memory these days. Now the problem of limited storage space has been answered with external hard drives by Esorun. The wireless external hard drive also goes beyond traditional external hard drives by generating a LAN, and supporting IOS, MAC, Android and Windows systems. People can expand their storage capacity up to 1.5 TB. It also supports up to 5 devices so friends can simultaneously share this devices and also easily share their data with each other.
The second generation wireless hard drive was finally released this week by Esorun. Five months have gone since its popular 1st generation wireless external hard drive. Just like the pictures indicate, the appearance is smarter than 1st generation. It is no doubt that technology and performance also have been improved a lot.
Like its first generation products, Esorun's second generation wireless hard drive is also supporting 3 main operation systems: IOS, Windows and Android, which take traditional external hard drive a notch higher. Its wireless design, WiFi connection, makes it extra convenient for all computer and gadget users.
The professional software "Wi-data" is also finished to replace the old software which is called "mobilefun" from a third-party company. The connecting speed is improved 20 percent than before, according to Mr. Yang, the leader of the Wi-data software development team.
For those users whose devices' battery life is not enough, Esorun's 2nd generation wireless external hard drive can be used as a mobile battery charger. It's built-in 3000 mAh battery capacity can almost double the battery life of any smart phones.
For those who wish to get more information about this amazing product can log on to their official website or video link at youtube.
About Shenzhen Esorun Technology Co. Ltd.
Shenzhen Esorun Technology Co. Ltd. is a professional technology company that provides a wide range of iPhone and iPad accessories, and other gadget accessories such as wirless chargers, portable chargers, iPhone 5 battery cases, wireless hard drives, Bluetooth speakers and more.