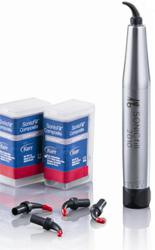 The sonic device allows quality white fillings to be done on a budget - Dr. Penchas
HOUSTON, TEXAS (PRWEB) February 14, 2013
White fillings are the ultimate in dental fillings. Gone are the unsightly black and silver fillings with their metallic taste and toxic materials. Everybody is looking for mercury free white fillings.
The problem has been that the white fillings are slower to place and more technically challenging - making them more expensive and their longevity lower.
The current white filling materials are very hard to place because they are a hard paste. When placed into a cavity, they do not flow well, creating spaces and voids. These voids or gaps cause pain from and decay from leakage. The filling materials can only be hardened in thin layers, meaning that the cavity needs to be filled in slow increments - making it a long a tedious process.
Both of these facts make white fillings expensive - beyond reach for a large segment of the population.
In comes the SONICFILL - a new sonic filling device and material for white fillings. This combination of device and filling material solves both limitations and allows for a faster and better filling. How? The filling device uses sonic energy to soften the specially formulated filling material as it is being placed into the cavity. This allows the filling material to flow and fit into the cavity better, faster and in thick increments. Thus a better filling with less time.
Multiple studies have shown the benefits of the sonicfill system.
As with any new technology, there is a learning curve for use. "it took us four times to learn and get used to this device - one of the fastest learning curves for any device in our office" - says Dr. Jonathan Penchas, a Houston Dentist and cosmetic dentistry expert. The material has now surpassed a million uses, and is gaining traction.