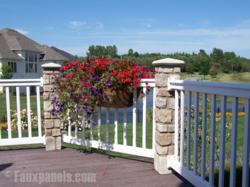 Columns add instant elegance to any landscape
Deer Park, NY (PRWEB) February 19, 2013
Barron Designs launches another DIY friendly web site for homeowners. FauxColumns.com is a dedicated site for column wraps, standalone pillars, mailbox posts and more.
"FauxColumns is a natural evolution for our business. FauxPanels.com does very well with both home owners who want to do it themselves and contractors and architects who want consistent results. Giving columns its own place to shine makes it easier for consumers to find everything they need to add an elegant column to their driveway or dress up a porch post," said Steve Barron, president of Barron Designs.
With five different product lines, FauxColumns.com has a style and option for virtually every design need. Whether you like the appearance of classic brick, stacked stone, drystack, cobblestone or more, there's a look to suit your architecture.
Column wraps are an easy way to dress up an existing post or column, such as on a porch. Other columns can be used as freestanding architectural elements, many of which meet federal crash safety standards so they can be used to edge a property or at the entrance of a driveway while still being completely compliant. Mailbox posts are distinctive looking and practical, making it a pleasure to pick up mail. Faux columns can even be paired with fencing to create horse jumps or elegant property boundaries.
All of the products on FauxColumns.com are made of either highly durable polyurethane or polypropylene so they'll look terrific for many years regardless of wear and tear. Unlike genuine stone which can chip and erode or brick, which can dust, these faux stone and brick columns can handle extreme temperatures, wind, rain, snow and ice like a champion.
Just like its sister sites, FauxWoodBeams.com and FauxPanels.com, FauxColumns.com features extensive installation guides that provide clear, detailed instructions. Even better, the same friendly staff that assists customers of the other sites will also be handling questions for FauxColumns.com.
"None of our customer service representatives receive a commission so their only motivation is making sure our customers get exactly what they need to create their dream project. They can even help with some design services," said Barron.
Adding a decorative pillar can add instant curb appeal. Thanks to FauxColumns.com, it's easier than ever to add this stylish architectural element to your property.
Barron Designs is an industry leader whose web sites FauxPanels.com and FauxWoodbeams.com feature practical, easy to install, low maintenance design options for home owners, architects and contractors. Products from those sites have been regularly featured on television shows such as "Celebrity Apprentice," "Man Caves" and numerous appearances on "Extreme Makeover: Home Edition." FauxColumns.com is the latest offering from Barron Designs, Inc., a family-owned home improvement business operating since 1972. For more information, visit FauxColumns.com.