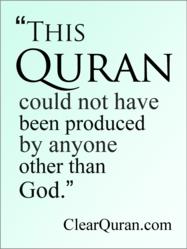 "For fifteen years I searched for the perfect translation of the Quran, but to no avail. I finally decided to translate it myself."
Plano, Texas (PRWEB) February 12, 2013
Talal Itani, an electronics engineer, translated the Quran into everyday English.
Talal first read the Quran in 1992, out of curiosity. Since then, Talal has been studying the Quran, researching it, and educating others about it. Talal decided to translate the Quran when he gave up all hope of finding an English translation that was at the same time highly accurate and very easy to understand.
After about 20,000 hours of effort, the task was completed. The translation was posted online in May of 2012. Since then, over 125,000 individuals have visited the website.
This translation of the Quran is in everyday English; and it is clear, accurate, and it closely follows the Arabic original.
Book Excerpt: "This Quran could not have been produced by anyone other than God. In fact, it is a confirmation of what preceded it, and an elaboration of the Book. There is no doubt about it—it is from the Lord of the Universe." [Chapter 10, Verse 37]
Reader Testimony: "I had tried many times to read the Quran in English, but the translations were so difficult to understand, that I gave up. I finally found your translation, and it is easy to read and understand. I just wanted to thank you for this." [Jusha Mirza]
Full text and audio are posted online at http://www.ClearQuran.com. The translation is also available in print and eBook formats.
The Quran is a Reminder. It contains Mercy and Healing, and it is beyond doubt from the Lord of the Worlds.