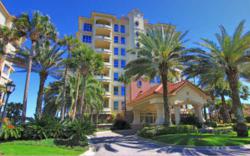 "...Beyond even the exceptional..."
Amelia Island, FL (PRWEB) February 03, 2013
Chaplain Williams Realty announces the availability of 1301 Carlton Dunes on Amelia Island, Florida. Anyone who wishes to own one of the rare gems of real Florida real estate instead of being swept into the wave of cookie-cutter tourist timeshares should consider this special listing. Amelia Island is the destination for golfers, nature lovers, beach lovers and bird lovers alike. Far from the bustle of Miami, the man-made thrills of Orlando, or even the party in Panama City, Amelia Island is truly an island of refuge located just 30 minutes from the Jacksonville International Airport.
Northeast Florida's Amelia Island and Fernandina Beach is a time-tested, theme park-free, luxury family destination. Families who look for more than the latest thrill ride should add Amelia Island real estate or Fernandina Beach homes to their list of potential dream homes. The premier Naussau County, Yulee, Fernandina Beach and Amelia Island real estate expert is Prudential Chaplain Williams Realty. As their latest listing illustrates, Chaplain Williams specializes in exclusive listings of high-end Amelia Island property. This company is experienced in marketing exceptional properties to qualified buyers.
The property at 1301 Carlton Dunes is a three-bedroom, four full bath condominium in South Amelia Island. The property exemplifies luxurious oceanfront living and offers spectacular views of undisturbed dunes leading to the Atlantic Ocean. The volume ceilings, spacious rooms, arched doorways and nautical etchings add elements of graciousness throughout. With an elegant gas fireplace, and dining and living areas overlooking the ocean, it is a perfect home for entertaining, The state of the art, wood-paneled kitchen offers every convenience to satisfy even the most demanding gourmet chef.
The unit is part of the gated oceanside community within the exclusive Ritz-Carlton development. Carlton Dunes is welcoming to both full-time residents and to those who wish to use the property as a second home. The community's strong homeowners' association gives owners the confidence to come and go, knowing that the property is well cared for and safe.
Due to near historic low interest rates, purchasing exclusive Carlton Dunes oceanfront homes is more than possible. Truly, this market is perfect for the right buyer. Amelia Island waterfront homes are desired by those looking for a different, more genuine Florida. Both Amelia Island and Fernandina Beach homes are off the beaten path, relaxing quietly on Florida's first coast. Chaplain William's offering of 1301 Carlton Dunes at the Ritz-Carlton, Amelia Island definitely is news worth sharing.