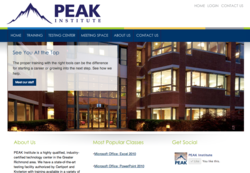 As a Richmond web design company, we love helping new businesses share their expertise on the web. This new website will help PEAK Institute draw new students and manage its business more effectively.
Richmond, VA (PRWEB) February 25, 2013
Little Big Business Solutions has just launched the website for PEAK Institute, Richmond's newest technology training and testing center. PEAK Institute's new website is ready for its grand opening and initial course offerings. The up and coming computer training academy required a powerful website with a smart design geared towards attracting IT professionals in need of training and certification while showcasing its state-of-the-art tech facilities. PEAK Institute is certified to operate by the State Council for Higher Education of Virginia and can be found at PEAK-Institute.com
The website includes a robust directory of available courses. All relevant information is organized and displayed clearly on each program's page with accompanying calls-to-action facilitating course enrollment. The site also contains a custom-built user login system with an account dashboard that promotes familiarity and ease-of-use, complete with Facebook integration. In addition to the website, Little Big Business Solutions designed the look and feel of the organization and has assembled a variety of promotional materials for several occasions.
Little Big Business Solutions specializes in web design, IT services, and business consulting. The company offers a wide array of services in these fields including Search Engine Organization (SEO), website design, brand building, and network installation and security. Little Big attracts and targets businesses nationwide of small-to-medium size with a desire to grow and a need for effective marketing solutions and technology expertise.