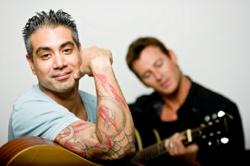 From your first lesson, I will have you playing. And, I will inspire you to keep on playing. The guitar is not an easy instrument to play; but if you aspire to be an accomplished player; I can get you there.
Fort Lauderdale, Fla. (PRWEB) February 15, 2013
Studies show that playing an instrument can help one learn discipline, relieve stress, perform better in school, and much more. In an article titled "Music: It's in your head, changing your brain" by Liz Landau, Dr. Charles Limb, associate professor of otolaryngology and head and neck surgery at Johns Hopkins University, says, "I think there's enough evidence to say that musical experience, musical exposure, musical training, all of those things change your brain. It allows you to think in a way that you used to not think, and it also trains a lot of other cognitive facilities that have nothing to do with music."
Fort Lauderdale guitar teacher Dyce Kimura realizes the implications of these studies and will have his students playing the guitar from the first lesson. He will begin with the fundamentals and as a student's skills increase, he will teach him or her how to play their favorite songs and music styles.
Within the first few months of lessons, students will learn some basic improvising and soloing techniques. Dyce doesn't rush students through lessons; instead, he allows them to work at their own pace and teaches them according to the timing that they are comfortable with. He tailors lessons according to pace and skill level for each individual student.
Dyce's lessons cover topics and skills that include reading sheet music and tabs, learning songs by ear and ear-training, basic and advanced chords, songwriting, and more. He teaches a variety of skills, ranging from rhythmic and chord structures to stage presence to how to choose and use the right music equipment. His goal is to have students play with authority on the guitar while helping them improve their musical and mental abilities as a musician and a person.
2013 is the beginning of a new year, and a new you. Take advantage of this limited offer today - $10 off of the initial consultation is a $60 value. Fort Lauderdale guitar teacher Dyce is also offering an ongoing price break of ten lessons (a $600 value) for $500. Lessons include one-on-one coaching, performance based guitar instruction, and homework that will challenge students to practice and apply what they've learned while building their skills at a realistic pace. To learn more about Fort Lauderdale guitar teacher Dyce Kimura, his unique teaching methods, and his various locations, contact him at 786-457-3687, or visit http://www.dycekimura.com.