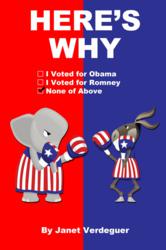 "Here's Why" is a revolutionary new concept for a "Living eBook." New updates will be published as more and more people submit their reasons for why they voted the way they did in the November 2012 Presidential election.
Sarasota, FL (PRWEB) February 05, 2013
"Here's Why: I Voted for Obama, I Voted for Romney, None of Above," just published as a Kindle eBook by Granny Apple Publishing LLC, is not meant to stir the coals of the great political divide among voters in the United States. Nor is it intended to question or challenge the 2012 presidential election.
Instead, author Janet Verdeguer believes that by reading the thoughtful comments of others, people will better understand what is really going on in the hearts and minds of their fellow Americans. Since they can read this eBook in the privacy and comfort of their living rooms or the nearest Starbucks, they won't get into heated arguments with friends and family members, but instead can reflect on what people from the other side are really thinking.
"People are also tired of listening to pundits on radio or TV who many feel led them astray this election."
"Here's Why" is an eBook invitation for people to send their reasons. The first edition already includes comments from people in their '40s to their '80s, divided by chapters into these age groups.
Those who wish to submit should include two or three main reasons they voted for Obama or Romney and two or three main reasons they did not vote for the other guy. Those who did not vote or who voted for another candidate are also welcome to share their opinions..
Granny Apple Publishing and the author reserve the right to make minor edits for consistency of style and to determine which comments will be published. Janet Verdeguer, an award-winning editor and publisher with more than 30 years experience in the field, will edit the submissions and re-issue the book each time she receives 25 or more opinions.
The eBook is currently priced at $.99 to make it widely available to voters everywhere. Everyone whose comments are included in the published eBook will receive a free copy of the updated version in which their comments appear. Comments should be emailed or snail mailed to Granny Apple Publishing. "By the act of sending in their comments, each person is automatically granting permission for Granny Apple to publish them," says Verdeguer.
"Since the election, I have considered that, maybe, because the majority of folks seem to disagree with me, some of my thinking needs to change. I plan to read and re-read these comments from folks across the USA and do some soul searching. I encourage others to open their minds and do the same.
"At the least I am convinced that many of the leaders on the Right do not have a clue about what is really going on in people's hearts and minds. And I am also convinced that many voters on the Left can't get beyond the groupthink that they seem to have imbedded in their subconscious minds that Conservatism is a dirty word. I believe this mindset prevents them from considering the reasons why lots of people are concerned about the direction the country is taking. I am already impressed by the quality and thoughtfulness of comments I have received from both sides.
"I believe that if people on all sides read this series of thoughts, opinions and ideas, it will help them better understand each other.
"The concept of having 25 new comments added with every update will make this truly a 'living book,' as the years go by. I sincerely hope this book helps everyone."
Granny Apple Publishing is a micro publisher located in Sarasota, Florida. For more information or to make a submission, contact Janet Verdeguer, Granny Apple Publishing LLC, 4602 Talbot Place, Sarasota, FL 34241 or email janet@GrannyApplePublishing.com