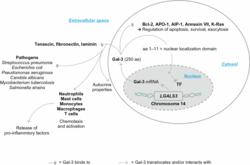 This manuscript contains a comprehensive collection of essential information for clinicians, researchers, and physicians involved in the planning and conduct of clinical trials in the indication heart failure.
(PRWEB) February 07, 2013
Research Reports in Clinical Cardiology has published "Galectin-3: clinical utility and prognostic value in patients with heart failure". This review summarizes the key findings of fourteen clinical trials in which Galectin-3 (Gal-3) was assessed as a biomarker of heart failure in more than 16,900 patients. In addition, it provides the most relevant information available about gal-3 biology generated in in vitro and in vivo research.
Gal-3 biology and preclinical studies are reviewed, assessing its value as a biomarker in heart failure (HF). The author of this study evaluates the utility of gal-3 for diagnosis, clinical decision-making, monitoring, and in prediction of outcomes. According to journal editor-in-chief Dr Richard Kones, "While most authorities agree that gal-3 is a promising biomarker in HF, other than the strong predictive relationship with mortality in different patient populations, more work is needed for any of these uses to attain clinical recognition in the form of evidence-based recommendations."
Study author Frank Kramer, Clinical Sciences, agrees, "Since the most recent review on the role of Gal-3 in heart failure was published several years ago and various additional clinical studies assessing its utility for the management of cardiovascular disease were published since that, an update on this topic is urgently needed."
According to Kramer, the carbohydrate binding protein gal-3, which is expressed by cardiac fibroblasts and several other cell types and which can be quantified in serum or plasma samples, is a frequently discussed biomarker to assess heart failure.
Kones explains that there is some indication from the CORONA study that low levels of gal-3 may suggest a better response to potent statin drugs. Recent evidence also suggests plasma gal-3 levels are inversely related to risk for incident HF and mortality in community-dwelling healthy individuals, and also inversely with renal function in established HF patients. Gal-3 is therefore not only a biomarker, but growing evidence supports the belief that it is a cause of disease as well. However, current data cannot support its use as a screening tool for HF.
Still, according to Kramer, "Heart failure biomarkers are of increasing importance for both physicians and pre-clinical researchers as quantification of biomarkers is a valuable tool in therapy monitoring, contributes to the prediction of clinical outcome, and can play a key role in patient stratification."
HF is a progressive, difficult disease to manage, characterized by early mortality, repeated hospitalizations, debilitating and constricted lifestyles, a predisposition to cachexia (wasting) and sudden death, unwanted adverse events to both drugs and devices, shortfalls in compliance with guidelines, and poor patient adherence. Prognosis remains uncertain, with almost one-third of patients having a significantly poorer prognosis than is believed by their physicians.
Although survival has improved, about half of patients with this diagnosis still perish within 4 years. For the clinician, a biomarker or other means of assisting in diagnosis to guide in the choice of therapies, help monitor patients to avoid acute recurrence, and stratify patients for discharge planning and long-term management would be most welcome. For patients and their families, such information may assist in communication and shared decision-making, help reduce uncertainty, and minimize suffering and disability. Overall, HF is an increasingly large burden to society.
"The Holy Grail, of course, is tailored, biomarker-guided treatment of HF and development of specific gal-3 inhibitors with large, randomized studies demonstrating meaningful, realistic improvements in hard outcomes, such as rehospitalization rates and mortality," explains Dr Kones. "While much work needs to be done to achieve such goals, this review provides us with a current platform of understanding from which to proceed."
"This manuscript contains a comprehensive collection of essential information for clinicians, who are responsible for heart failure patients, as well as researchers and physicians involved in the planning and conduct of clinical trials in the indication heart failure," Kramer explains.
Research Reports in Clinical Cardiology is an international, peer-reviewed, open access, online journal publishing original research, reports, editorials, reviews and commentaries on all aspects of cardiology in the clinic and laboratory.
Dove Medical Press Ltd is a privately held company specializing in the publication of Open Access peer-reviewed journals across the broad spectrum of science, technology and especially medicine.