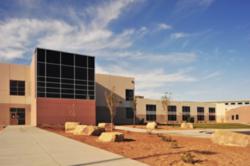 "We must meet our client's stringent criteria for smarter, safer, more energy and cost efficient solutions for their school construction projects. -- Blake Anderson, Diversified Interiors, El Paso, TX
El Paso, TX (PRWEB) February 11, 2013
Green school construction innovations are earning high marks in one of Texas fastest growing school districts. The Socorro Independent School District or SISD is a school district located in El Paso, Texas. SISD's East Lake High School features beautiful and energy efficient exterior wall panels engineered and installed by Diversified Interiors and manufactured by Steelform Building Products from recycled, LEED certified steel profiles. The school is being touted for its safety and efficiency. These unique panels are part of the reason.
What is LEED? "LEED stands for (Leadership in Energy and Environmental Design)," says Mel Mingle, PE. "It is an ecology-oriented building certification program run under the auspices of the U.S. Green Building Association. "The LEED Green Building Rating System is an independent certification program that provides voluntary guidelines for developing high-performance, sustainable buildings. Our panels being stronger, quieter, and more energy efficient than traditional construction materials provides significant LEED benefits. Plus, being esthetically pleasing is a big bonus for architects and building owners, too."
Smarter, greener school construction is trending up in Texas. "During the past two years, energy, safety, and durability focused school systems in Texas have liked the end product and benefits they saw on the our Ft. Bliss construction and wanted their new construction and expansions to meet that same stringent criteria," states Ed Anderson, DI of El Paso. Innovative architects for regional school districts have embraced the LEED challenge and the concept to meet their client's requirements.
"It's an honor to have been recognized and selected for best meeting client's stringent requirements by visionary firms like Mijares-Mora Architects and Banes General Contractors," states, Blake Anderson of Diversified Interiors El Paso.
How did they make the grade? "Excellence is why the Steelform light-gauge steel composite products and Diversified Interiors were selected for 150-thousand square foot Ninth Grade School and the 180-thousand square foot East Lake High School, with 100-thousand more square feet coming this year. The Socorro School District is known for innovative instruction in state-of-the art facilities," adds Anderson.
"The Diversified Interiors (DI) team has proven themselves to be up to today's major construction challenge of combining erection speed, LEED and durability. DI is a regional leader in LEED construction. On the East Lake High School project, they installed over 100-thousand square feet in a three month period and that is an accomplishment unheard of in conventional construction. Their client commended them on speed, low-waste, durability, and sustainability of the walls," notes Rick Godwin, principal, Seelform USA.
About Steelform
Steelform USA, Steel Building Products is one of America's leading steel manufacturing, steel building material distribution and steel construction solutions companies.
For more than 50 years, Steelform USA and its Building Products have been trusted partners in the steel construction industry delivering on-time, on-budget, as promised, to companies around-the-corner and around the globe. Steelform USA corporate offices are co-located in Austin, Texas and Atlanta, Georgia. Company principals are Mel Mingle and Rick Godwin.