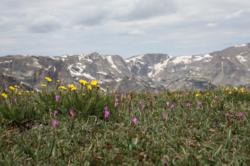 Greater Yellowstone Ecosystem is world-renowned as a bastion of biodiversity conservation...
Cody, Wyoming (PRWEB) February 01, 2013
All three partners in the Camp Monaco Prize—the Buffalo Bill Historical Center's Draper Museum of Natural History, the University of Wyoming's Biodiversity Institute, and the Prince Albert II of Monaco Foundation-USA—are dedicated to the conservation of native biodiversity and have created the prize as a collaborative effort to promote their common mission.
For that reason, the partners have announced the official call for proposals addressing Greater Yellowstone biodiversity research and public education. The Greater Yellowstone Ecosystem is world-renowned as a bastion of biodiversity conservation and an arena for exploring the relationships among human demographics, social and economic development, and natural resources conservation.
The Camp Monaco project--so named to commemorate Prince Albert I of Monaco's trip to Wyoming in 1913--will be conducted in the magnificent Greater Yellowstone Ecosystem, and organizers encourage projects with global implications, especially those with a trans-boundary approach, recognizing that effective biodiversity conservation crosses geo-political/ jurisdictional, academic/disciplinary, and economic and social boundaries.
The Camp Monaco Prize jury is in place to review submissions and to select the winning proposal. The jury includes a highly distinguished, international assemblage of scientists, scholars, public officials, and public outreach professionals. The prize will be awarded at the Buffalo Bill Historical Center's annual Patrons Ball, September 21, 2013, in the presence of H.S.H. Prince Albert II of Monaco.
For 2013, organizers seek proposals in one or more of four broad categories:

Understanding current patterns of biodiversity and predicting changes related to current and expected social, demographic, economic, and environmental dynamics;
Assessing ecological, social, demographic, and economic impacts of biodiversity changes, e.g., restoration/reintroduction of native species and/or invasion of non-native species;
Developing trans-boundary conservation strategies for species and their habitats; and
Synthesizing and disseminating existing information about the above topics to the public.
Proposals should be submitted via e-mail to Dr. Charles R. Preston at cpreston(at)bbhc(dot)org, no later than April 19, 2013, with award recipient(s) announced on September 21, 2013. For more information, visit the Historical Center's Web site and click on "Greater Yellowstone Natural History."
Committed to connecting people with the Spirit of the American West, the Buffalo Bill Historical Center weaves the varied threads of the western experience—history and myth, art and Native culture, firearms technology and the nature of Yellowstone—into the rich panorama that is the American West. The Center, an Affiliate of the Smithsonian Institution, is now operating its winter schedule through February 28: open Thursday – Sunday, 10 a.m. – 5 p.m., closed Monday – Wednesday. For general information, visit the Center's Web site, or call 307.587.4771.