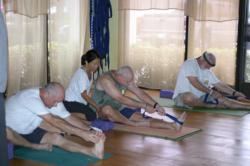 "Judy Weaver has been an ambassador with lululemon for several years because of her dedication to serving and helping others. The community is inspired by her efforts and the we continue to support her." says Amanda White, Store Manager, Boca Raton, FL
Boca Raton, Florida (PRWEB) February 05, 2013
Boca Raton, FL (February 5, 2013) – lululemon Athletica awards Judy Weaver and Connected Warriors $14,000 in their first ever Ambassador charitable giving grant program. lululemon focuses on supporting people and organizations that proactively promote healthy bodies, minds and spaces in their communities. The lululemon ambassador program is extended to unique individuals in our store communities who embody the lululemon lifestyle and live our culture.
"Working with lululemon over the years has been a pleasure," says Connected Warriors Executive Director, David Frankel. "They are a company that really knows how to support our community and veterans. They recognize us as a fantastic outlet for mind, body and spirit."
Connected Warriors is putting the grant to work immediately to help service members, veterans and their families
Connected Warriors offers free yoga classes for service members, families and veterans. "Our mission is to help Veterans deal with family and community reintegration, mental and physical trauma by using the focus of Yoga. It's quite powerful, and lululemon is an integral part of our program," says Mr. Frankel.
About Connected Warriors:
It was Judy Weaver's vision that Connected Warriors, a 501(c)(3) non-profit, was founded in August of 2010 with Ralph Iovino to deliver free yoga classes to service members, veterans and their families across the country. By soliciting the support of local yoga studios, veteran centers and other donated spaces in the communities, we connect participants of all ages with local volunteers. Our community approach leverages local yoga teachers to support the free classes, with additional teachers based on the age and ability of the students. There is never a charge to our participants and they can attend as many free classes each week as they choose. To-date, Connected Warriors has served over 4,300 service members, veterans and their families in 9 states. The organization is funded by public and private donations. For more information or to donate to one of our programs please go to http://www.connectedwarriors.org
About lululemon Athletica:
lululemon Athletica is a yoga-inspired athletic apparel company that creates components for people to live long, healthy and fun lives. By producing products that help keep people active and stress free, lululemon believes that the world will be a better place. Setting the bar in technical fabrics and functional designs, lululemon works with yogis and athletes in local communities for continuous research and product feedback. For more information, visit http://www.lululemon.com
###