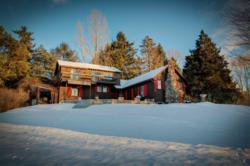 Margaretville, NY (PRWEB) February 05, 2013
Though it's not the most popular time of year for home buying, winter can still be a prosperous period for homeowners looking to sell their property, according to the upstate NY real estate professional at Coldwell Banker Timberland Properties. Home sellers can increase the number of inquests into their residence by taking to heart a few expert strategies many real estate agents advise.
Homeowners who want to create a substantial amount of buzz for their home for sale should list their property for a reasonable price. The Wall Street Journal reports setting too high a price for a residence is a popular mistake made by many novice home sellers without the guidance of a real estate agent, as too high of an initial listing price could lead to markedly fewer home buyers showing interest in the home.
Additionally, it's recommended home sellers take photos of their property - as many real estate experts would advise - but without snow featured.
While some home buyers may be enticed by the prospect of living in an area where it snows, many home buyers want to see what the home would look like during warm-weather seasons.
Coldwell Banker Timberland Properties, with offices in Margaretville, Delhi and Stamford, is the premier real estate agency of the Catskill Mountains in New York State. Buying and selling land and homes in the New York City watershed area is unique and the 25-plus agents of Coldwell Banker Timberland Properties are trained to help buyers and sellers through this process. For more information about Coldwell Banker Timberland Properties and to preview Upstate New York Homes and Land offerings, go to http://www.timberlandproperties.com.