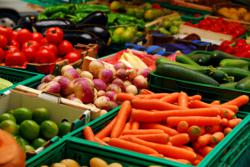 Fort Collins, CO (PRWEB) February 01, 2013
Designed for anyone selling foods created in their home directly to the consumer, Colorado State University's new online "Developing a Safe Food Business" certificate affords students the flexibility to take the course from anywhere. The curriculum specifically addresses high altitude environments, specific to the Rocky Mountain Region.
From those planning to start a food business in a home kitchen to those thinking smaller scale such as selling homemade foods at a farmers market, this safe food handling certificate will help students navigate the many regulations and requirements involved.
Covering two topics a week for eight weeks, students will learn about many of the necessary food safety practices and regulations needed to start a food company, including:

Sound manufacturing practices and sanitation
Food safety guidelines
Storing and transporting foods
Allergens
Labeling
Ingredients and final products
Business planning, marketing, and budgeting
Documentation and recordkeeping
The course also shares practical examples, useful tips, and resources to help with students' business endeavors. Upon completion of this food safety course, students will have developed the start of their company's standard operating procedures, created a food label, begun their business plan, and much more.
Instruction for the "Developing a Safe Food Business" certificate is provided by Colorado State Extension professionals from around the state and lead by CSU Extension employees and the Department of Food Science and Human Nutrition.
The first section of the course will run March 24 through May 18, 2013 and registration is open now.
To learn more about this certificate program, please visit http://www.online.colostate.edu/certificates/food-safety/ or contact Mike Macklin, student services representative for the program, with any questions at 970-491-7583 or michael.macklin(at)colostate(dot)edu.
Colorado State University OnlinePlus programs and educational opportunities, offered through the Division of Continuing Education, support the University's land-grant mission by providing quality graduate and undergraduate degrees, professional development training, certificate programs, online credit and noncredit courses, and industry specific training online and at our Denver Learning Center.
For more information about Colorado State University OnlinePlus, visit http://www.online.colostate.edu or call (970) 491-5288.