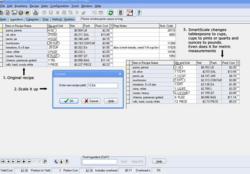 It's the best way to deliver application based culinary and restaurant training and education.
(PRWEB) February 22, 2013
Formerly available only through schools CG-Educator food costing software is now available for direct student purchase for $25 per license per year or $45 for two years, which is a fraction of its regular price.
Food costing is the backbone of any foodservice operation and CostGuard has made food costing easy to learn and easy to accomplish with their new CG-Educator Food Costing Software. CG-Educator allows students to practice food costing in a real life environment. Used by culinary schools around the world CostGuard is now making this software available directly to students. CG-Educator can also be transferred to a full license with no loss of data.
CostGuard is real software used by the trade: much more than a simulation or a limited demo. Students know when they're using a real tool, and benefit greatly from experience with industry-grade software.
A specialized network license of CG-Educator (a $5000 value) is also available to culinary instructors using it in their classroom. This version includes networking, multi-unit capability, and all interfaces, a value of nearly $5,000.00.CostGuard has lesson plans and PowerPoint presentations so teachers can quickly and effectively adopt CostGuard into their curriculum.
Potential applications include: Inventory Control, Cooking and Baking, Purchasing, Banquets and Catering, Menu Planning, Beverage Management, Computers in Foodservice, Quantity Cooking.
To see everything CostGuard can do for you
About CostGuard:
At-Your-Service Software, Inc., the creators of CostGuard, is a leading supplier of food service software. CostGuard is an integrated solution that includes Inventory, Recipe, Sales, Nutrition, and many interfaces to other applications.
See everything CostGuard can do for you. http://www.costguard.com
Food, recipe and menu costing software for independent and multi-unit restaurants, retail and production kitchens, hotels and banquet halls, casinos, caterers, bakeries, delis, corporate, commissaries and institutional foodservice.
CostGuard foodservice software does it all: recipe, menu, food and liquor costing; inventory control; nutrition; sales management; interfaces with suppliers, POS, accounting and catering systems.