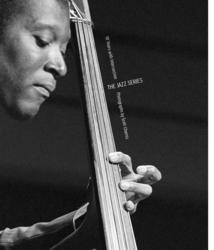 San Francisco, CA (PRWEB) February 08, 2013
Since 2001, Scott Chernis has been the resident jazz photographer at Intersection for the Arts in San Francisco. Documenting monthly jazz performances at their theater at 446 Valencia Street in the Mission, and later in collaboration with The De Young Museum, Scott has created ten years worth of Bay Area jazz history.
After a one year hiatus, Intersection for the Arts is relaunching the jazz series on February 14, 2013. Marcus Shelby will be performing and it will be the release for the photography book Scott Chernis has created from the collection of photographs chronicling the first 10 years of the series. Original prints will also be on display and available for sale.
Kevin B. Chen, Program Director at Intersection for the Arts, is excited for the release. "Photography has the ability to capture a moment in time and the potential to transport viewers emotionally right into the photograph. I've been curating and organizing the jazz at Intersection program since its inception in 1999, presenting more than 125 concerts with hundreds of musicians, and have been working with Scott Chernis since 2001 to document these concerts."
The Bay Area is home to a diverse and talented group of jazz artists. They are known for pushing boundaries and collaborating to create a unique sound. Chernis currently shoots jazz for festivals, magazines and CD projects in San Francisco, but his passion was first ignited during his time attending Tulane University in New Orleans. Scott continues to return to New Orleans to document the rich musical traditions of that city. What began as a passion for jazz and the music and culture that makes New Orleans unique, has evolved into a career, which attempts to engage all subject matter.
The relaunch of the jazz series and book release will take place at Intersection for the Arts' new home at 925 Mission Street. More information can be found at http://www.scottchernis.com or by emailing info(at)scottchernis(dot)com. Please visit Intersection for the Arts website http://theintersection.org/
About the company:
Serving the San Francisco Bay Area, Scott Chernis Photography is a professional photographer specializing in graduation, food, jazz and performance, portraits, and San Francisco event photography. Scott Chernis is also a full service event photographer and provides coverage of corporate meetings, conventions, trade shows, awards, presentations and many other events. Scott's work has appeared in numerous magazines, advertisements, and websites around the globe. Scott Chernis Photography is committed to creating unique and high quality images for each and every client. Scott Chernis is also a lifestyle photographer, corporate portrait photographer, portrait photographer, and university photographer. For more information, please visit http://www.scottchernis.com.