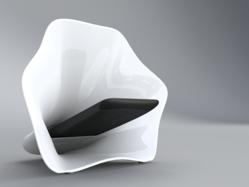 This product embodies Zelco's design philosophy, the juxtaposition of design and unexpected function.
(PRWEB) February 20, 2013
Zelco is pleased to announce the upcoming arrival of two new items that will launch this spring. The Blooming Sound phone amplifier and the multipurpose YO Lamp are set to be ready for purchase on March 1, 2013.
The Blooming Sound iPhone charging station and phone amplifier gives iPhones an extra sound boost. The flower-inspired device is not only aesthetically pleasing, but increases external volume twofold.
"Blooming Sound is as beautiful in form as it is in function," Noel Zeller, CEO of Zelco, says.
The phone amplifier is perfect for giving an iPhone's alarm clock a little extra kick in the morning or to just pump up the volume of favorite songs. It is also a handy tool for hearing the ringer while the phone charges in another room. The device has an iPhone series battery mount and includes the Blooming Sound body, charging cable holder and iPhone set fixing mount.
The Blooming Sound phone amplifier, model 03514, will be available for $35 this March along with another one of Zelco's new products, the YO Lamp.
The YO Lamp is "More flexible than a Yoga instructor!" This device is a multipurpose task lamp that utilizes a retractable and flexible arm that can extend up to 18" inches. The bright LED lamp is perfect for brightening any job requiring quick and effective lighting.
"This product embodies Zelco's design philosophy, the juxtaposition of design and unexpected function," Zeller says. "Design inspiration can come from anywhere, in this case, a childhood favorite, the Yo-Yo. The function is unexpected and modern, the flexible arm of the task lamp combined with LED technology."
The battery or USB cable-powered YO Lamp is a small, 3.5" diameter Yo-Yo shaped lamp. The arm recoils around the body for easy storage and is bendable in order to hang the lamp or lower it into hard to see areas. YO Lamp will be available in black, white, blue, fuchsia and green and comes packaged in a clear plastic gift box.
YO Lamp, model 010XX, will also be listed for $35 and launch in March.
Zelco Industries, Inc. was founded in 1976 by Noel and Adele Zeller in their New York home. The company is now a multinational company known worldwide as an innovator of high quality products that are as ingenious as they are practical. With facilities in the U.S., Italy, and China, the company remains family-run out of their New York headquarters. The Zeller family and their dedicated team research, design, develop, market and distribute products ranging from their popular "itty bitty" book light to desk lamps, household items and travel accessories.
To learn more about the Blooming Sound phone amplifier and YO Lamp please visit http://www.zelco.com. If it's exciting, innovative, creative and useful, it's from Zelco.