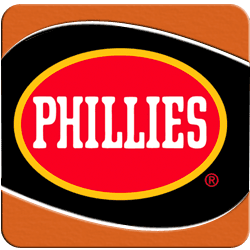 Miami, FL (PRWEB) February 07, 2013
Phillies has been producing premium smokes since 1910. The tobacco company earned a reputation for delicately crafted blunts by making sure the products have rich flavor and consistent performance. The cigars produced are engineered with the best filler tobacco for a mild bodied taste. Phillies come in a wide selection of flavors and sizes, including the world renowned Blunt line.
This sale provides a great opportunity to sample a top rated cigar at a deeply discounted price.
Phillies uses the purest blends of materials from Honduras and the Dominican Republic. The popularity of these products means a difficulty to find available stock. The Chocolate Box has a natural Connecticut shade wrapper and Caribbean Basin Cuban Seed, creating a petite Corona blunt that will fill a room with aroma.
The Phillies Blunt Cigars Sour Apple Box contains 50 pieces of well made, mild cigars. The binder is a homogenized tobacco leaf and it's one of the top selling machine made cigars in the country. These smokes guarantee to be perfect every time you light up.
The same could be said about any of Phillies' cigars. Their cigars and cigarillos come in an extraordinary range of flavors, including regular, honey, coconut, grape, grape banana, peach, chocolate, berry, mango, strawberry and watermelon. Each promises to be a unique smoke and this sale is the best way to mix, match and experiment, with prices on Phillies slashed up to 50 percent.
TrueTobacco.com strives for a level of service and purpose unlike the competition. The company takes responsibility seriously, always seeking out ways to improve customer service and responding to issues quickly and efficiently. With a goal for constant improvement, True Tobacco maintains a team of informed professionals. This team's sole intent is to act as a single unit and serve the customer and guarantee satisfaction.
The company receives fresh shipments every Monday. Each shipment is inspected. It's this dedication to detail that has made them TrueTobacco.com such a popular provider of tobacco products.
True Tobacco's staff is ready to help answer customer questions and fill orders at at any time. The staff will make sure orders made by 2 p.m. go out the same day. This is to ensure cigars are shipped as quickly as possible and that they're as fresh as they can be when the customer receives the cigars.
True Tobacco has a loyalty points program. Every purchase and review left on the site builds points. The points can be exchanged for free products. Any order over $199 is shipped for free.
For new customers, this sale is an excellent time to see what TrueTobacco.com is all about. This sale on the Phillies is a good time to see why True Tobacco is the premier retailer for this great stogie and many others.