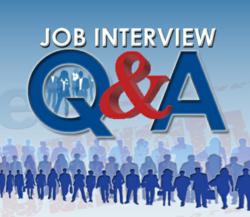 99% of people are telling us that it improves their interview answers immediately.
GUNTER, Texas (PRWEB) February 05, 2013
Job seekers who want to perform better in their job interviews and stand out as top candidates have a new resource to utilize: an interactive video job interview app. Job search and interview training website Career Confidential has released an app to teach job seekers in all fields how to answer interview questions. The Job Interview Questions and Answers App is available for the iPhone, iPad & Google Play. Find out how to get the app here: http://jobinterviewquestionsandanswersapp.com/
The app is designed to help job seekers be stronger, smoother, and more confident when answering interview questions by helping them improve their answers and practice delivering their responses.
Here's how it works: Users see a short video of an "interviewer" asking a common job interview question such as "Tell me about yourself," "What's your greatest weakness?", "Why do you want to work here?", or "Where do you see yourself in 5 years?" The app then allows the user to video record his or her answer. The app plays back the answer so the user can see what they would look and sound like to an interviewer. Then, the app plays a 1-2 minute answer delivered by Career Coach Peggy McKee, who also talks about the thought process involved in coming up with a great answer. The user can compare their answer with hers and then take what they've learned to improve their answer in the future.
According to McKee, "I am so pleased with the numbers of people who are using this app. Hundreds of people are downloading it every day, all over the world. Feedback has been amazing: 99% of people are telling us that it improves their interview answers immediately."
The app offers the first few questions for free, so job seekers can try it out. Review the product and a few more questions are unlocked. After that, questions and answers are available at a low price. There are 30 questions in all, ranging from Introductory Questions like "Tell me about yourself" all the way through behavioral interview questions that ask job seekers to explain past performance and difficult situations. Salary questions are included, too.
Job seekers can learn more interview tips by visiting http://www.CareerConfidential.com, or by visiting the How to Answer Interview Questions article series on Career Confidential's blog http://careerconfidential.com/how-to-answer-interview-questions-series/.
Job seekers can visit Career Confidential's blog for hundreds of articles and videos on the entire job search and interview process: http://www.CareerConfidential.com/blog/.
# # #
Career Confidential is a rapidly growing job search training company based in Texas that specializes in providing job seekers with powerful and customizable tools and techniques to get the jobs they want fast.
Since nationally-recognized recruiting and job search experts Peggy McKee (CEO) and Carl Chapman (CTO) founded Career Confidential in 2009, Career Confidential has grown from one product, the 30/60/90-Day Business Plan, to more than 30 products to guide candidates through every step of the job search.
Career Confidential helps job seekers worldwide. If you would like more information about this topic, or to schedule a coaching session, please call Peggy McKee toll-free at 1-800-691-2562 or e-mail Peggy at Peggy(at)CareerConfidential(dot)com.