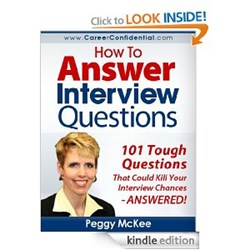 A lot of job seekers sort of stumble around with their answers, because they don't really know what the best answer is.
GUNTER, Texas (PRWEB) February 04, 2013
Career Confidential, a job search and interview website, has released a new ebook called How to Answer Interview Questions, 101 Tough Questions That Could Kill Your Interview Chances--ANSWERED. The ebook is currently available for download on Amazon's Kindle Store at this link: http://www.amazon.com/dp/B00AQ4CAFI
How to Answer Interview Questions is a collection of 101 tough but common job interview questions and answers. Each question is answered by Career Coach and CEO of Career Confidential, Peggy McKee. She offers a comprehensive, in-depth explanation of how to answer each interview question—often explaining why hiring managers ask that particular question and what kinds of things they want to hear in a good answer. She also offers suggestions for wording and phrasing that job seekers can use when speaking. Answers are adaptable for a wide variety of jobs.
The 101 job interview questions and answers include common but hard-to-answer questions like:

Tell me about yourself.
What's your greatest weakness?
What salary are you looking for?
Why do you want to join this company?
Why should we hire you?
Why do you have a gap in your employment history?
Tell me about a time when you failed.
Describe a time when your work was criticized and how you handled it.
What motivates you?
What questions do you have for us?
"Most job seekers don't have the words they need to explain to the employer why they are the person for the job," according to McKee. "A lot of job seekers sort of stumble around with their answers, because they don't really know what the best answer is. Others think they are just fine and feel very confident, but they don't realize what the hiring manager is really looking for in that answer. So they give what they think is a good answer, but they miss the mark on what is going to speak to that hiring manager. They haven't explained why they are the person for the job."
The ebook was created out of a popular series on Career Confidential's blog, How to Answer Interview Questions. McKee says that she decided to put the the blog articles together in one ebook to make it easier for job seekers to access all the questions and answers easily.
"We have received a tremendous amount of positive feedback about this series. Our readers tell us that they love it, that it's helped them prepare for their interviews. By putting the questions together into one ebook, it makes it much easier to carry it around on your Kindle and practice answering interview questions wherever you go, even right before you go into your interview. That's very significant. People who practice answering interview questions do better and sound stronger in the interview."
Job seekers can visit Career Confidential's blog for hundreds of articles and videos on the entire job search and interview process: http://www.CareerConfidential.com/blog/.
# # #
Career Confidential is a rapidly growing job search training company based in Texas that specializes in providing job seekers with powerful and customizable tools and techniques to get the jobs they want fast.
Since nationally-recognized recruiting and job search experts Peggy McKee (CEO) and Carl Chapman (CTO) founded Career Confidential in 2009, Career Confidential has grown from one product, the 30/60/90-Day Business Plan, to more than 30 products to guide candidates through every step of the job search.
Career Confidential helps job seekers worldwide. If you would like more information about this topic, or to schedule a coaching session, please call Peggy McKee toll-free at 1-800-691-2562 or e-mail Peggy at Peggy@CareerConfidential.com.